This article is more than 1 year old
GNOME 3: Shocking changes for Linux lovers
Cleaner, simpler, button-free
Review At five years in the making, and with code contributions from more than 3,500 developers, the just released GNOME 3 is not a small upgrade: it's a radical departure with an entirely new approach.
GNOME 3 will no doubt prove polarizing for the GNOME community, at least initially. But, the reality is, love it or hate it, GNOME 3 is the future of GNOME. Work on GNOME 2.x has ceased and while some distros will probably stick with it for a while longer, there will be no future releases or new features.
Fortunately for GNOME fans there is much to love in GNOME 3 and only a few things that may trip up seasoned GNOME users.
The first time you fire up GNOME 3, the most noticeable change is the lack of, well, anything familiar. You'll see a toolbar at the top of the screen with a clock and some familiar panels for Wi-Fi, volume and the like, but there is no bottom panel and no menu items to click on save one - "Activities."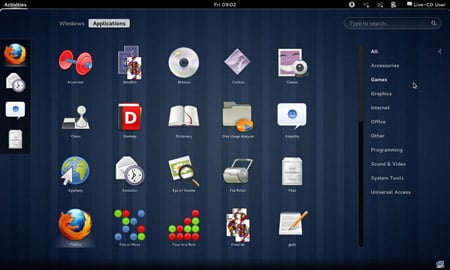 GNOME 3 means you don't need to open menus or drill through categories to find your apps
The Activities menu is your gateway into the new GNOME Shell. The GNOME Shell sits on top of the desktop and moves aside the traditional window lists and menu bars in favor of what the GNOME team believes is a more streamlined interface with fewer distractions.
Although GNOME 3 will be a jarring shock for those accustomed to working with the GNOME 2.x line, once you spend some time with it, it's hard not to love the GNOME Shell - particularly if you're working on a small screen device where the reduced window clutter is a welcome change.
Indeed GNOME 3 is a cleaner, much-simplified desktop experience no matter what size your screen is. The GNOME Shell does an admirable job of making it feel like the entire system is just you and whatever app you're using at the moment - the Shell stays out of your way until you need it.
When you need it there are a variety of ways to invoke it - the aforementioned menu item, hot corners, mouse clicks or keyboard shortcuts (by default the Windows key). When the shell is brought forward you'll be greeted by a dock on the left of your screen, shrunk down windows of any running apps in the middle, a workspace switcher to the right and, most importantly, a search bar.
The workflow is simple, call up the shell and start typing. You can search for apps and documents, launch applications, switch desktop environments and perform all the tasks you're used to doing in GNOME from the shell. Once you're done the shell moves back out of your way leaving just your apps on screen.
The integrated launcher means there's no need to open menus and hunt through app categories to find what you need (though you still can if you prefer, just click the applications item in the GNOME Shell). Clearly GNOME 3 takes some inspiration from third-party apps like GNOME Do, though it lacks many of GNOME Do's power-user functions. For example, there's no way to quickly open a document in a different program, rename a document, move a file or use any of GNOME Do's other powerful options. Still, there's no question that, especially for app launching, the GNOME Shell is a step up from GNOME 2.
For those that prefer a "dock" approach to launching apps, the GNOME Shell has that option covered as well, just add your favorites to the dock and click to launch. The dock is also an easy way to switch between open apps.