This article is more than 1 year old
Icelandic todger museum acquires human hampton
Local chap makes generous donation
The Icelandic Phallological Museum last Friday became "probably the only museum in the world to contain a collection of phallic specimens belonging to all the various types of mammal found in a single country", when it took possession of a human penis.
The example of Homo sapien Islandicus's wedding tackle was kindly bequeathed to by 95-year-old Pall Arasson. The ceremonial handover was attended by a large crowd in the fishing village of Húsavík, keen to celebrate the successful conclusion of museum founder Sigurdur Hjartarson's quest to acquire the full set of 46 mammalian members.
Arasson beat off stiff opposition to attain penile immortality. An American, a Brit and a German had also promised their dangly bits, with the Yank sending "a life-size plastic mould of his member, which he calls 'Elmo' in place of the real thing, as part of his pledge to donate".
Arasson was apparently troubled in later years that his bid for "eternal fame" might be compromised by his shrinking schlong. The museum diplomatically declines to say how he measures up to the opposition, including a 1.7 metre-long sperm whale spam javelin, but it's pretty certain he won't be threatened by the 2mm hamster hampton (pictured, somewhere behind the magnifying glass).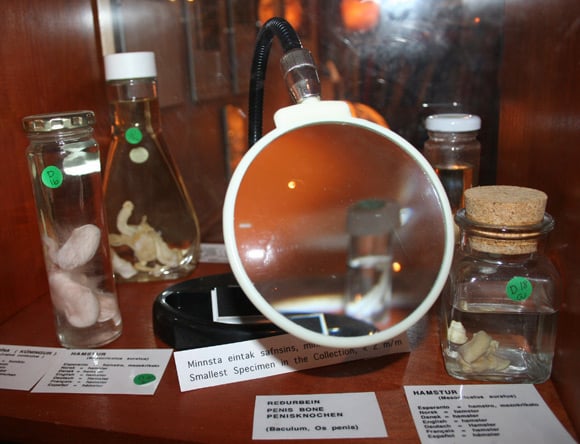 Sigurdur Hjartarson got his hands on his first dick – a bull's pizzle – back in 1974. He gradually built up his collection before opening the The Icelandic Phallological Museum in Reykjavik in 1997.
In 2004, the museum upped sticks to Húsavík, where visitors can enjoy the total of 272 specimens from 92 different species of animals. It's open between 20 May and 10 September and easily located by the "large brown phallus near the entrance". ®
Bootnote
Thanks to Mike Richards for the tip-off.