Isilon scale-out filers get processor boost
Big data? Bring it on
---
EMC's Isilon unit has revved up its product range by adding two systems that use Intel Westmere and Nehalem processors, with more than twice as much file throughput for its top-end S200 system. Big data here we come...
Isilon sells scale-out clustered filers, with an S-Series, which is optimised for sheer high-end grunt, a mid-range X-Series line, and an NL-Series for archiving.
The previous IQ 5400S is replaced by the S200, while the existing IQ 7200X has been replaced by the X200. The 72NL, a nearline storage version of the 7200X, and its little brother, the 36NL, remain in Isilon's portfolio, although we might speculate about a coming 200NL as today's hardware refresh flows into the nearline product space.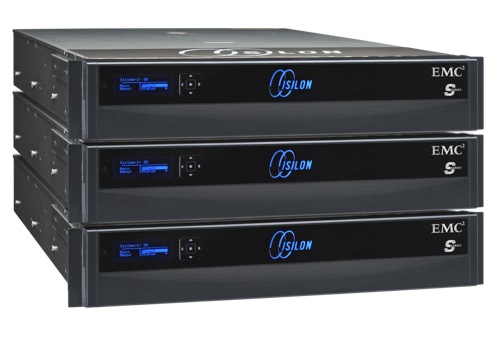 3-node Isilon S2900
The S200 provides, we're told, more than 1.4 million NFS I/O operations/sec from its dual Westmere quad-core processors, and has a throughput of 85GB/sec from a single file system. Isilon says the previous 5400S delivered about 600,000 NFS I/O operations/sec and around 45GB/sec.
Customers can use up to six STEC 200GB, 2.5-inch SDDs and 24 Hitachi GST SAS 2.5-inch hard disk drives. Each SSD used takes up a disk drive slot. A cluster of S200s can share a 13.8TB globally coherent cache. A 2U node can hold up to 14.4TB with its 24 drives and has a maximum memory of 96GB. There is 10GbitE host connectivity while clustering needs two InfiniBand connections per node.
X200
The smaller, mid-range, X200 scales up to 5.2PB, delivers 309,312 I/Os per second, has a throughput of 35.7GB/sec, and a 6.9TB globally coherent cache. Each node, with a single Nehalem processor and 48GB maximum memory, can hold up to 24TB of data from 12, 2TB, 3.5-inch, SATA drives. Both hard disk and solid state drives are supported.
The old X-Series had a 28.8GB/sec throughput and delivered 288,000 I/Os per second.
Software
OneFS v6.5 provides the ability for SSDs to be used for both data and metadata. It supports NFS v4.0 and added native CIFS plus Kerberized NFS v3. Isilon says it has enhanced enterprise authentication as well. SyncIQ 3.0 adds in multi-threaded, multi-node, scale-out replication and is fully integrated with Snapshot IQ. Isilon says it provides better recovery point objectives.
InsightIQ 1.5 provides analytics capability.
The 144PB cluster capacity limit remains, as does the maximum 144 node count.
Isilon's competitive positioning shows it well clear of Blue Arc, HP Ibrix, IBM's SONAS, NetApp and Panasas, because, according to Isilon, it provides more enterprise capabilities and big data storage.
These Isilon changes are evolutionary and provide a welcome boost in performance and an increase in data protectability. There is nothing radical here and no evidence of any EMC product integration but it is very early days on that front. All in all, Isilon remains the target every other big data filer supplier has to beat.
The S200 has a starting list price of $57,569 per node, while the X2000 starts from $27,450. OneFS 6.5 and SyncIQ 3.0 are immediately available and free for Isilon customers with an existing support contract. OneFS 6.5 is standard with any S200 or X200 purchase, while SyncIQ has a list price of $4,950 per node. ®