This article is more than 1 year old
Nokia E7 Qwerty slider smartphone
Symbian's last call?
Review The Nokia E7 is the company's latest for phone for business and, in keeping with the styling makeover first seen on the N8, it features a sleek aluminium casing with tapered ends and a big 4in screen. Indeed, it could easily be mistaken for an N8 at first glance.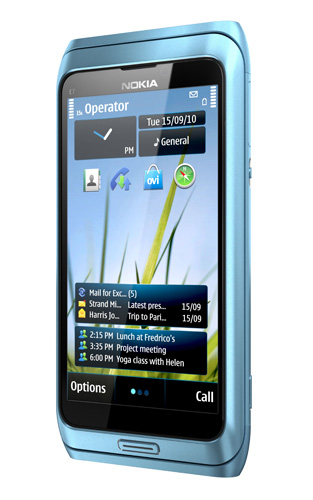 For business and pleasure: Nokia's E7
It's only when you look more closely that you notice the thin gap around the display. Press on the edge of the phone and the screen swings up to reveal a four-line Qwerty keyboard which, despite its flatness, has enough travel in the keys to be highly usable. The tactile keys are well-spaced and easy to read.
Another similarity to the N8 is that the E7's battery is in a sealed unit, so you can't pop out the cell if it runs out of juice. Fortunately, battery life on this phone is outstanding. Charge it daily and it's very unlikely to go flat on you. Indeed, charging on alternate days is a real possibility, unlike many smartphones. The E7 has no memory card slot, so you're limited to the built-in 16GB storage, but that's probably enough for most folk.
The E series of Nokia phones go big on business functionality. So it's easy to set up multiple e-mail inboxes which can sit onscreen alongside each other or you can switch quickly between mail accounts. If you use MS Exchange, the E7 comes preloaded with Mail for Exchange to integrates with existing Exchange servers.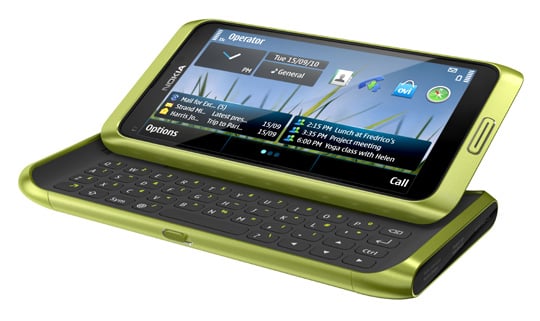 Slide out Qwerty keys when you need them
The HDMI output means you can work on PowerPoint presentations on a big screen instead of the phone's display. It's also handier than, say, the iPad for getting documents off the phone – if you can connect a USB stick (you'll need the supplied adaptor to fit the phone's micro-USB slot) it's a simple matter to transfer files.