Nokia E7 Qwerty slider smartphone
Symbian's last call?
Staying power
Where the phone will most divide critical opinions is the software that this hardware runs. Symbian, the operating system which was so popular and capable when it first launched, has seen better days. This is the latest version of Symbian, redesigned to be the best of both worlds: familiar to the millions of previous Symbian users but optimised to do lots more.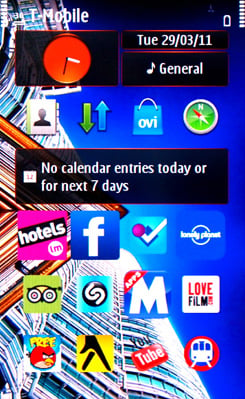 Up to three home screens can be configured with shortcuts and widgets
For many, this latest edition is just too similar to previous versions to seem whizzily new or different. There are three home screens, each with its own background image, stuffed with widgets. These range from shortcut tiles for Facebook, Angry Birds and Trip advisor to music player and RSS programs. If you're an Android addict or iPhone fan, there's not much to wow you here. And since Nokia has thrown in its lot with Windows and announced it'll make Windows Phone 7 its smartphone operating system of choice, you have to wonder how long Symbian will be good for.
But that's not to say it's a bad system, just that it lacks the intuitive ease of Apple's set-up and the eye-catching sparkle of Google's OS. If you've always had a Nokia phone, it's comfortable and instantly usable. Sometimes it feels it's stayed so close to earlier versions that it uses three screen presses where one would have done, and at other times it still feels shoe-horned into the world of touchscreen, but it's still capable and largely likeable.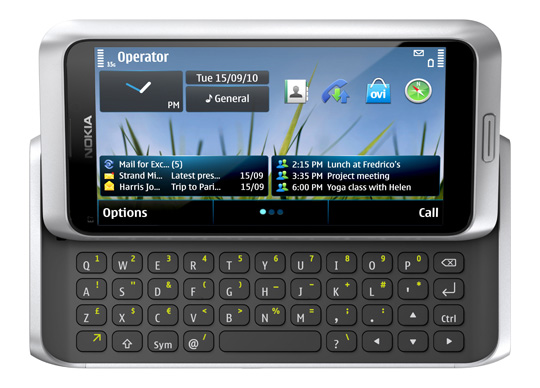 UI inconsistencies remain, with some tasks still requiring multiple button presses
And though the phone lacks the 1GHz processor that is increasingly de rigueur, the 680 MHz ARM processor keeps things ticking along nicely, thank you, with slowdowns rare even when you have several programs open. Indeed, multi-tasking is something Symbian has always managed well. And I haven't even mentioned Ovi Maps, the free mapping service that means you can use the phone as a satnav abroad without incurring data traffic costs.