This article is more than 1 year old
Punter bags 500GB SSD, finds 128MB Flash inside
Solid Scam Drive
Pity the poor guy who bought a very cheap external hard drive in China, only to find that there was nothing inside but a seemingly cleverly configured 128MB USB Flash key.
The sad Russian's story, relayed by Hardmac, is a salutary tale about paying the right price for things.
But there's an interesting tech story here too. It seems the guy only realised the drive was screwy when he played a video with it – only the end of the movie was played.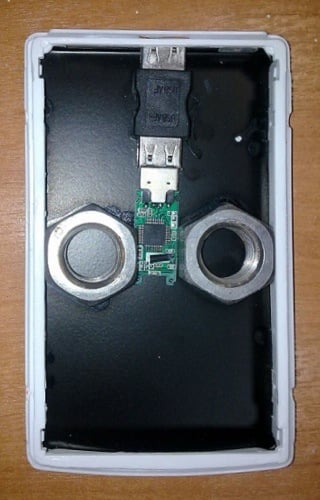 Cock-up: the ersatz SSD
Closer inspection revealed the drive was automatically erasing itself when full, and then continuing with the process of writing the rest of whichever file was being copied to the drive. Anyone ever heard of this "feature" in firmware before?
Of course, why the fellow's computer didn't report the true size of the drive is anyone's guess. Perhaps it did, and he didn't check. Maybe the firmware reported a false size to the OS too.
Wonder why he didn't notice how little the drive weighed? The scammers smartly inserted a couple of large steel nuts into the packaging to up the unit's weight. ®