World pays tribute to Yuri Gagarin
Let's go!
---
A premature valediction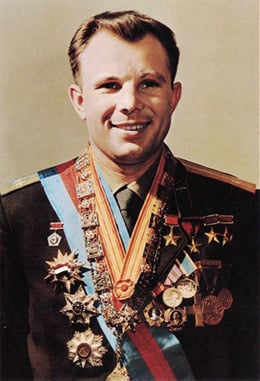 The Russian authorities last week released a letter penned by the cosmonaut to be given to his family in the event of disaster. It read: "I trust the hardware completely. It will not fail. But it can happen that a man trips at ground level and breaks his neck. Some accident may happen. If it does, do not waste yourself with grief. Life is life, and nobody is safe from being run over by a car."
The letter forms part of a batch of documents made public in an attempt to lay rest conspiracy theories about Gagarin's death. On 27 March 1968, he was killed during a routine MiG-15 training flight from Chkalovsky Air Base, northeast of Moscow.
Some have claimed he was actually "murdered on the orders of Soviet leader Leonid Brezhnev for an unspecified offence or disloyalty to the party," but archives official Alexander Stepanov has now assured the press that Gagarin probably lost control of the aircraft "after swerving sharply to avoid a weather-forecasting balloon".
Whatever the truth, Gagarin was a Soviet hero who passed into space legend. Among the worldwide tributes to the man today is that of Christopher Riley's First Orbit, a reconstruction of what the cosmonaut would have seen as he flew high above the Earth's surface.
Using footage shot from the International Space Station, synched with Gagarin's own voice during the mission, Riley has produced a fitting memorial to the space pioneer: