This article is more than 1 year old
Nokia gets touchy-feely with two new Symbians
A brilliant business QWERTY, and a Gothic nightmare...
Nokia says it wants to sell 150 million Symbian phones before the venerable OS is finally shunted off to the knacker's yard, and it unveiled two new models today that the Finns hope will bring that target nearer. Both feature a new "Anna" revision to Symbian OS.
One model, a Blackberry-like business design, is quite outstanding and reminds you how good Nokia can be when it pulls everything together. The other, a large touch screen consumer model, the X7, makes the 150 million target look very distant indeed.
We had a hands-on with both this morning.
The good news first.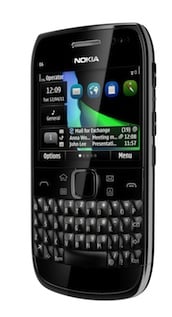 Nokia E6 [click to enlarge]
Launched in 2008, the E71 was one of the best and most successful Nokias in recent years, and still fetches a premium. Complimented for its excellent build quality, size, finish and battery life, here was a case of Nokia executing well. Its successor, the E72, gathered more complaints than plaudits. The E6 adds a touch screen, and this works so well in practice you wonder why it wasn't done years ago. Everything is more accessible, which goes some way to remedying one of the most notorious usability problems with Nokia's S60: phone settings are sprayed all over the place. As with its predecessors, it makes rivals from RIM look heavy and bloated. It's actually 133g, considerably heavier than the Blackberry Curve 9300's 106g, but being a couple of millimeters thinner than the RIM, it feels more comfortable.
The E6 also touts a higher density 640x480 screen, and at 326 pixels per inch, it's pin sharp, and doesn't appear to suffer from the added digitiser. Media capabilities have been pimped up to handle video recording (and playback) at HD 720p, and take 8MP pictures. There's an FM radio built in. Nokia claims figures of 14.8 hours talktime on GSM and 7.5 hours on 3G, with a month's standby time – thanks to the now-familiar 1500 mAh battery. As with the over-sized QWERTY slider the E7, 802.11n-speed WLANs are supported; as is the 1700Mhz 3G frequency used by T-Mobile USA, alongside the 1900Mhz (North America) and 2100Mhz (everyone else) frequencies.
The new model supports more Microsoft enterprises services than before, including Sharepoint Server, and better exchange support. This was promised in 2009, with Microsoft's Stephen Elop helping engineer a pact. I wonder where he is nowadays?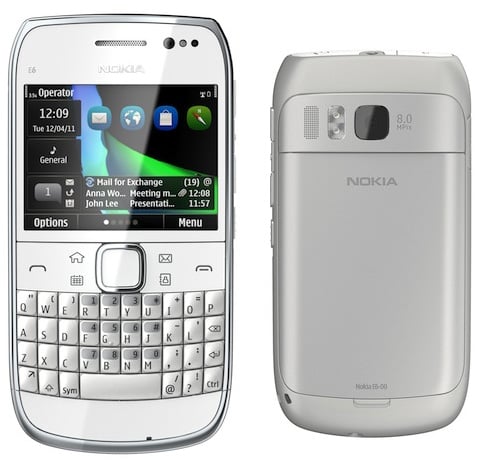 The X7 is a head-scratcher. It's been given the Gothic styling beloved of hardcore PC gamers, but the specs don't command a premium: a 4-inch OLED screen is now bog standard, only this 4-incher can't do more than the sub-par 640x360 display resolution. The 8MP camera is also fairly routine now. This only emphases the Noddy&trade feel of the new icons – more of this below. And while you may be fooled into thinking it pumps out quadraphonic sound, or even stereo, there is merely a feeble mono speaker.