E-car maintenance - there's an app for that
Open the app, key in the vehicle's non-broadcast SSID and the car-specific password, and the app will provide a read-out of the vehicle's battery status and the range it's likely to give you depending on whether you have the aircon on or off.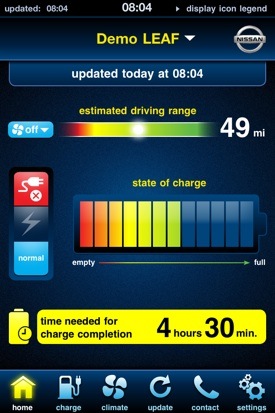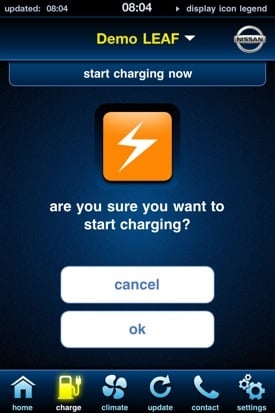 Monitor your charge with Carwings
Carwings will also tell you how long it'll take to charge up the battery. If the Leaf is plugged in at that moment, you can start the process.
Oddly, it's not an immediate process. There's a lag of up to five minutes, Carwings warns, between the app informing you charging has begun - which itself doesn't follow hard on the heels of pushing the charge button - and the process starting.
Likewise, activating the "climate control" sub-system, which can also be activated using a timer.
Lag aside, you can't fail to be impressed with an system that allows you to get your car up to temperature - it would have been handy for many this past winter - before you step out of the front door.
Notifications are emailed to you, to an address set up separately online. I know the iOS' own notification system isn't up to much, but why not simply have the phone ping when the car's ready? There's a lack of joined up thinking here: some settings, such as the target of the Charge Completion notification have to be done using the car's on-board computer, which kind of defeats the point of having the app.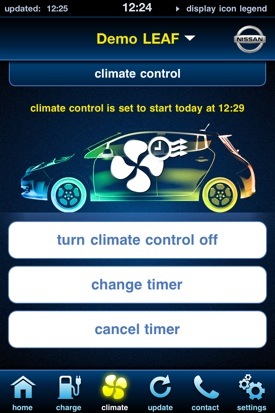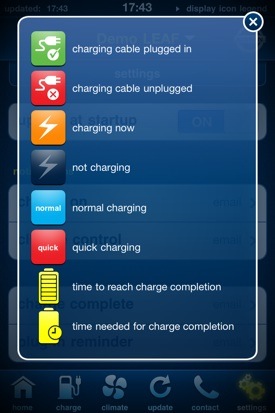 Pretty, but is it any use?
The app should be one way among several of getting this information, but it should go the whole hog and replicate key systems. Turn the heating on, good - not being able to set the cabin temperature, bad.