Who's gonna drive you home?
The Leaf itself is a C-class car, but a large one - if feels big - and, at 1.5 tonnes, it's heavy too. The cabin is spacious, the driving position very comfortable.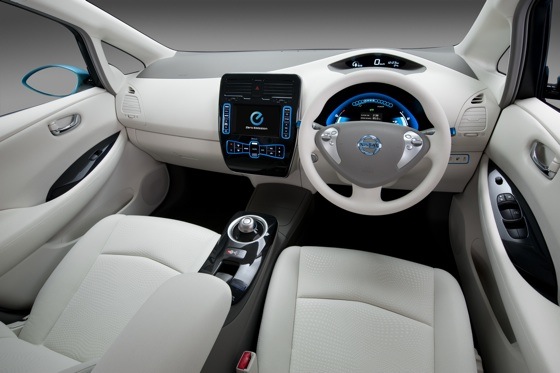 A big car makes for a spacious cabin
It's a push button start, and the transmission - park, forward, reverse, basically - is automatic, selected by a toggle in the usual gearstick location. Foot on the brake to turn on the car, and keep the pedal pressed to select the gear: push the toggle right, then up for reverse, down for Drive. Select Drive a second time, and Leaf goes into Eco mode. The latter is said to increase the Leaf's regenerative braking capability. It also limits the air conditioning, to "improve driving range by ten per cent when driving in urban areas".
The parking brake is engage-by-wire: a flap you lift up then push down to drop or weigh the anchor.
There's not much other stand-out tech here. The Leaf's technology credentials are delivered through the power train, not gadgets in the cabin. It has a nice rear-view camera that feeds the satnav display when you engage reverse, basic on-screen graphics guiding you toward but keeping you apart from the car you're edging toward, but it's not packed with 'car of the future' stuff the way the new Ford Focus is.
Push down the accelerator and with a barely audible whine from the motor, the Leaf is away. It takes just over 11 seconds to hit 60, and will reach 118. Once you've overcome any false notions that it might not accelerate quickly enough, you'll be overtaking with gusto.
It's quiet inside, but not so very much less than an equivalent dead tree juice vehicle. Judging by the pedestrians - not an approaching car sound-triggered glance from any of them - around Milton Keynes, where I took the Leaf for a spin, it's quiet on the outside too. The Leaf has a sine-wave sound system that runs from 600Hz to 2.5kHz and back again, said to be easily audible range across age groups so folk can hear you coming.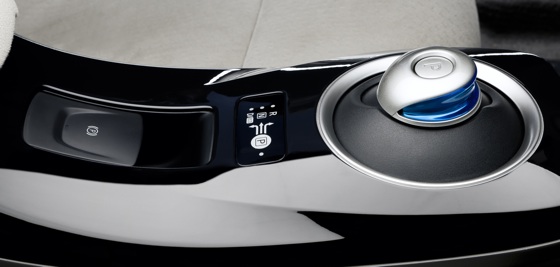 Central control: the handbrake paddle (left) and the gear select
Get the Leaf up to 70 on a dual-carriageway, and you could be driving an any other C-class. Only the inevitable battery imposed range limit is a concern. Nissan's team were quite chuffed to show the range circle on the satnav map, showing just how far away the Leaf's "potential" 110-mile range is. Indeed, it is good to know how far you can go before you'll need to recharge. What would be more helpful is a display that shows how far you can go and still have sufficient charge to get home afterward...