Arboreality bites?
Regenerative braking puts power back into the system, but this isn't going to extend the range significantly. Nor will the Leaf's wee fir tree graphic on the dash, telling you how eco-friendly your driving is. Brake early and accelerate gently seem to be the favoured methods. Good for battery, perhaps, but not conducive to an exciting drive.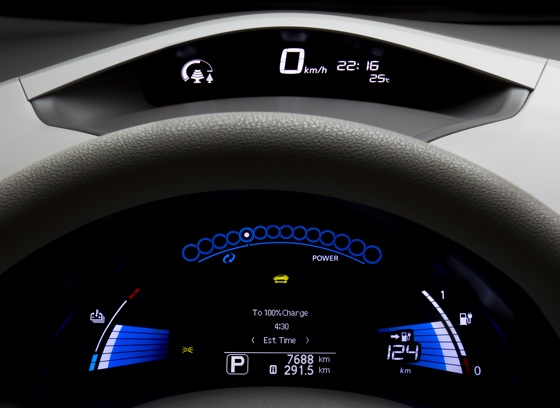 All mod cones: the pine tree icon grows as you drive more greenly
But then that's not what the Leaf is about. E-cars can be exciting - Tesla is proof of that - but this is a commuter-mobile masquerading as a family car. As a London resident who seems to spend more time driving to the enormo-market once a week, ferry kids to extra curricula activities and such than racing up and down the country, the Leaf appeals to me.
If I had a driveway, charging it overnight to keep it topped up and ready for the daily 25 miles city dwellers drive on average would be no problem. Not having to pay London's Congestion Charge or road tax are leaf benefits too. The rising price of petrol is a strong motivation too.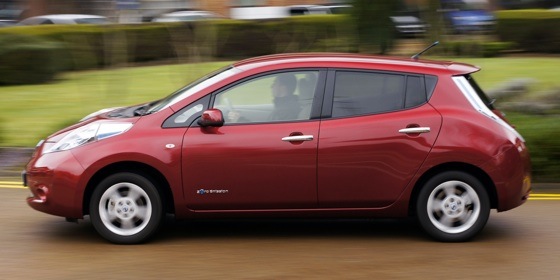 No question it's a Nissan
But by trying to make the Leaf something more than a small, nippy town car - think Mini, Cinquecento or even iMiEV - Nissan lulls you into the false sense that you could pack up family and paraphernalia, and run up to to the Peak District for the weekend. But you can't, of course - it's too far away. ®
Reg Hardware will be giving the Leaf a full write-up when we review the new e-car shortly.
More Car Coverage Reviews

Ford
New Focus
Toyota
Auris
Honda
CR-Z
Toyota
Prius
Mitsubishi
iMiEV