Marks and Spencer has whipped out what it claims is the world's first carbon-neutral bra.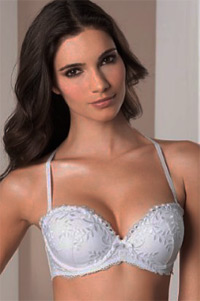 The Autograph Leaves Collection Multiway Bra is produced in an eco-friendly Sri Lankan factory powered by hydroelectric and solar energy.
M&S stumped up $400,000 towards the cost of the solar panels and design for the $7m MAS Holdings plant, situated in Thulhiriya, close to Colombo. The building also boasts a turf roof and "evaporative cooling" system, which is much less leccy-hungry than air conditioning. All of this, coupled to low-energy lighting, means the factory uses 40 per cent less electricity than a conventional equivalent.
The Carbon Trust Footprinting Certification Company did the sums to reduce the eco-brassiere to fully carbon-neutral status, and that will require M&S to plant 6,000 trees annually for the benefit of the local community.
The company has also hooked up with the Conservation Carbon Company to help farmers regenerate the island's southern rainforest.
M&S's Head of Sustainable Business, Mike Barry, reckons the retailer is looking to expand its range of carbon-neutral clothes. He said: "We don't want green, eco-friendly products to be in a ghetto in the corner, we should be making all products more environmentally friendly." ®
Bootnote
The Autograph Leaves Collection Multiway Bra is made from 67 per cent polyamide, 20 per cent polyester and 13 per cent elastane. If you find this mix less than planet-hugging, then get youself down to EarthPositive.
EarthPositive doesn't as yet make bras, but its t-shirts are "produced under the Global Organic Textile Standards from 100% organic cotton using only renewable energy from wind & solar power and approved by the Carbon Trust (UK) for reductions in CO2 emissions".
Furthermore, "the Fair Wear Foundation has audited the entire production chain for correct ethical labour practices". When it's not protecting kiddies from slave labour, the company is involved in the "Replanting a Rainforest" initiative in Brazil.
If that's not enough, then note that for every t-shirt sold, EarthPositive promises to "hug a tree and adopt a really lovely puppy from a Bangalore animal shelter".
Oh, ok, we made that last bit up.