Intel on Itanium: 'It's all about the OS'
'Poulson' in 2012. For sure
---
The Big Statement from Intel on Itanium didn't happen at the company's Developer Forum, as many expected, but Intel did make a few more concrete statements about the processor in an effort to put Hewlett-Packard HP-UX, OpenVMS, and NonStop customers at ease after Oracle's announcement that it will cease development its database, middleware, and applications on Itanium machines.
Kirk Skaugen, general manager of Intel's Data Center Group, polished up a bunch of presentations he has made on the Itanium and Xeon processors for servers in recent weeks and took them on the road for the Asian tech audience. Skaugen also dropped a few important lines into his Itanium-coexisting-with-Xeon song and dance routine.
The sales pitch for the new "Westmere-EX" Xeon E7 processor is virtually the same as what Intel was talking about a year ago when the "Nehalem-EX" Xeon 7500s came out.
In the pre-briefings that Skaugen gave for the Xeon E7 chips, he said that Sparc, Power, and Itanium chips account for a mere several hundred thousand shipments (each) per year compared to around 18 million x64 chips across Intel and Advanced Micro Devices. Yet the servers using those RISC and mainframe chips accounted for $15bn in revenues in 2010, according to IDC.
Yes, that number might be half what it was in 2002, and yes Intel's processors may have nearly doubled – from $19.2bn in revenues eight years ago to $30.5bn in 2002 – but Intel is rankled, like a Roman emperor who is reminded of Carthage that anyone buys RISC or mainframe systems still. Intel reckons that converting those RISC and mainframe customers to Xeons would yield about $1.5bn in chip revenues just for Intel per year. That is a drop in the bucket, really, when you say it like that. That would only increase Intel's server chip revenues by 5 per cent.
The funny bit as far as we're concerned is that in 2002, AMD's chips only pushed $330m in revenues and are up by a factor of 8.5 in that same eight-year term. And the other amusing bit is that Itanium server sales in 2002 were a mere $102m and have grown by a factor of 39 over that same period. Itanium-based systems, reckons IDC, did about $4bn in revenues last year, so it may not be as weak as you were thinking. An alien from another planet, not knowing the long and tortured stories of Itanium and Opteron, might say that these were the CPU workhorses to bet on.
A year later, the Xeon E7 sales pitch has gone up an octave and Intel is being more emphatic that Xeon can stand up there against any RISC or mainframe processor – as well as its own Itanium chips.
"We used to pitch Itanium up here," Skaugen said in his keynote address in Beijing on Wednesday, raising his hand above his head. "The highest performance, the highest reliability. It's really now a choice of operating systems. Xeon's reliability and performance is now equal – and in some cases better – than Itanium, and they are going to leapfrog in performance over time."
That was new, and he did not elaborate the cases when Xeon was more reliable than Itanium. And just in case you didn't get the message, Skaugen reiterated this line from his initial Westmere-EX briefings: "But now Xeon is in a place where there's no workload in the world it cannot handle." (Well, except HP-UX, OpenVMS, and NonStop workloads, not to mention Bull GCOS and NEC ACOS mainframe operating systems, which are only available on Itanium chips these days.) "At the end of the day, this is about choice for customers."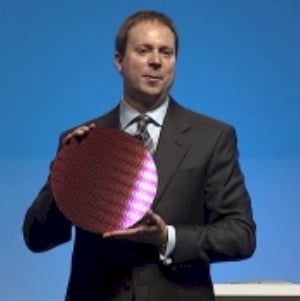 Kirk Skaugen, GM of Intel's Data Center Group
The other bit of new data to come out of IDF Beijing today was that the eight-core "Poulson" Itanium chip was indeed slated for production in 2012, as many of us had been guessing. "The Kittson microprocessor is already in development and will be a follow-on generation to that on a tock-tock schedule that we gave talked about, with Itanium every two years announcing a new product." In plain American, what he meant to say was expect the "Kittson" Itanium processor in 2014, although I have heard mumblings that it might be early 2015, so Skaugen might have meant to say that, too.
What Skaugen did not do – and what he should have done weeks ago – is be more precise in what was coming after the Kittson Itanium processors. Not because Intel has to do roadmaps that go out any further than anyone else, but because so many server and operating system vendors have pulled back support on the Itanium processor, which you will remember was supposed to displace the Xeons by about now according to the prognostications from the middle 1990s.
Thanks to a faithful reader of El Reg, you can take a gander at the letter that Skaugen apparently sent to Itanium customers sometime in March, which was a lot more specific than the public statements Intel was making.
"Recently we disclosed our next generation Itanium processor (code name Poulson), which is a brand new architecture design that will provide significant performance, reliability, and power enhancements, and will be delivered on Intel's newest 32nm manufacturing process technology. Following will be Kittson, of which we are in the architecture and early development phase, and we are currently starting exploratory work for what comes after Kittson."
Whatever comes after Kittson, it would not hit the market until 2016 or so, and that is further out than anyone is talking about on their processor roadmaps right now.
In the near term, El Reg is hearing some rumors that Intel and HP will be hosting some sort of Itanium-related event on April 26. We'll be digging around to try to figure out what this is all about. ®