Review Produced by Vivian Blick, a man who helped launch the wind-up radio, this shower-powered version is due to become the new must-have amongst 'eco-trendies' everywhere. The fact that shower-radios probably make you spend more time in the shower – thereby using more clean water and power – is an eco-flaw we'll just have to ignore for the moment.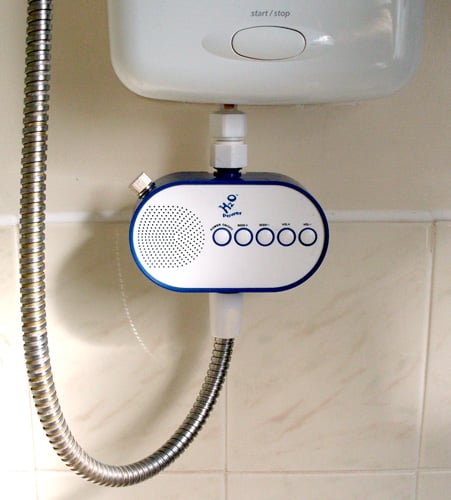 Plumb and play: the H2O water powered radio
The concept of the H2O is gloriously simple – water flows through a patented micro-turbine and generator that, in turn, charges a Nickel-metal hydride battery and thus powers the radio. The minimalist, retro design incorporates just a few buttons for radio tuning and volume; a mono speaker dishes out the perfectly acceptable, if a little tinny, audio.
Barring a few leaks – fixed with the bundled washers – installation was stress-free; the H2O screws between your shower unit and hose with a neat little plastic bracket and, handily, the only tools required are fingers.
The H2O will continue to pump out sound after you've turned the water off – handy for that mid-wash lather or post-shower towel session. The pressure of your hose dictates the amount of charge retained by the battery; yet after just a few showers there was enough juice for a good hour of listening without shower power.
As long as you don't completely drain the cell, it will also remember volume level and radio station between uses – nigh on essential for the quick and convenient blast of a morning shower.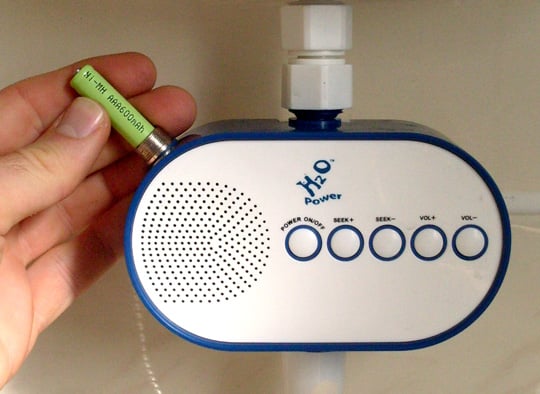 The Ni-Mh battery slips in under a metal screw-cap and will need replacing over time
What's great about the H2O radio is the way its ecological credentials positively enhance its usefulness. No expensive, water-corroded batteries to change; no plugging it in for a charge. In fact, it's so self-reliant it should happily keep you singing in the shower ad infinitum although you will need to change the rechargeable battery every few years. Oh, and do give it a good wipe-down once in a while.