This article is more than 1 year old
LG Optimus 2X dual core Android smartphone
Talkin' fast
Review There was much talk of dual core handsets at this year's Mobile World Congress – devices which effectively double the processing power available on smart phones. Samsung Galaxy S II and the Motorola Atrix are coming soon, but the LG Optimus 2X is first out of the traps, and also includes Android 2.2, an 8Mp camera and an HDMI connection.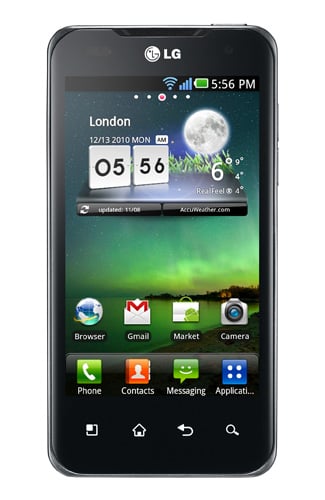 Dual core: LG's Optimus 2X
It's a sophisticated looking handset, with the glossy black front entirely covered by a sheet of glass, iPhone-style. The four familiar Android controls are rendered in touch-sensitive fashion beneath the screen. The curved sides are bounded by a metal strip, with volume buttons on the side, micro USB power/sync port and stereo speakers on the bottom, and power button, 3.5mm headphone jack and covered HDMI port on top.
The 4in multi-touch screen offers 800 x 480-pixel resolution with enviable contrast and clarity. It looks great, but unfortunately doesn't always perform as well as it looks – but we'll get to that later.
The big deal with the Optimus 2X is that it has a dual core processor, a new Nvidia Tegra 2 chipset in fact, which promises improved graphics processing and, in theory, should make it notably faster and more capable than any of the single core processors we've seen on handsets so far. And that includes those nifty 1GHz models that still seemed super-fast just last year.

Not the slimmest, but certainly pocketable
Is it fast? Yes, it's fast. Does it mean that lag has been completely obliterated? No, of course not. There are still occasional moments when it seems to be taking its time, but the effect is relative – when jumping between apps or flicking between portrait and landscape modes in the browser, any delay, no matter how slight, is telling. And while it certainly feels quick in general use, it's at most only a little quicker than, say, the HTC Desire S or the Samsung Galaxy S, both 1GHz single processor Android beasts.