This article is more than 1 year old
LG Optimus 2X dual core Android smartphone
Talkin' fast
Game on
There are some areas where the processor really earns its keep though. Copying files from a PC proved to be quite shockingly quick. HD videos which would normally take minutes raced across in a few seconds. Browsing the web too feels extremely nippy most of the time, though busier pages will still take a few seconds to load.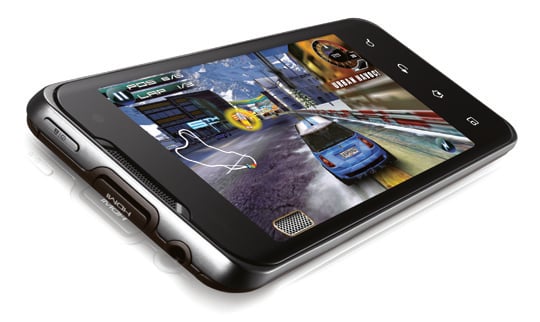 HDMI interfacing on smartphones is fast becoming a standard feature
Plugging in an HDMI lead to a suitable TV not only gives you instant access to your videos and pics, but also the opportunity to play your games on the big screen. Here too the processing power really makes a difference, with the picture blown up to fit a 47in screen and no slow-down in the action.
In fact, the biggest hold-up tends to be with the screen itself. It's not the most sensitive touchscreen I've used, not by a long way, often requiring additional presses to make it bend to my will. Which is a shame really, for a processor that's champing at the bit to get a move on, only to be held up by an excessive need for additional finger prodding.
The Optimus 2X runs Android 2.2 Froyo, rather than the very latest Gingerbread version – although the company states it will be upgradeable – but LG has overlaid elements of its own S-Class UI on top and, for the most part, it works fine. The icons look attractive and there's an additional icon bar at the bottom of the screen which you can populate with four of your favourite shortcuts.
LG has added some gesture controls too, which you can adjust from the settings menu – handy little nick-nacks like tapping the sides of the phone to skip to the next music track or photo; flipping the phone over to snooze an alarm and tapping the phone on top, bottom or sides to move the text cursor around.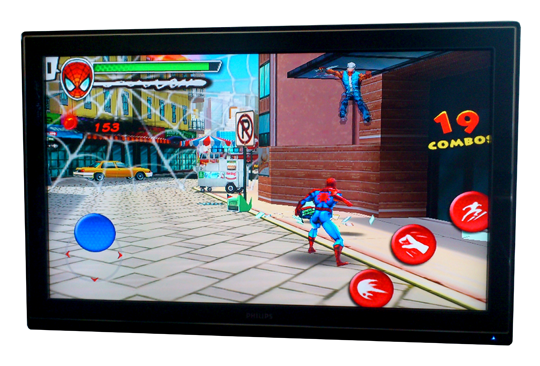 TV screen gaming thanks to the HDMI output
The handset utilises LG's keyboard rather than Android's with no means to switch – not a disaster, since its spelling correction and word prediction aren't bad, but some serial Android users would, no doubt, prefer to have a choice other than having to instal another keyboard app from the Android Market.