This article is more than 1 year old
LG Optimus 2X dual core Android smartphone
Talkin' fast
Video extra
Besides the dual core processor, there's another trick to the Optimus 2X which you won't find on any other phone just yet – 1080p Full HD video capture at 24fps. It's smooth, it's fairly sharp, but not necessarily a huge leap on from the 720p HD other camphones have been touting of late. Movie content comes up well on the native video player, which offers the option to resize them for the screen, and manages to do it fairly subtly too.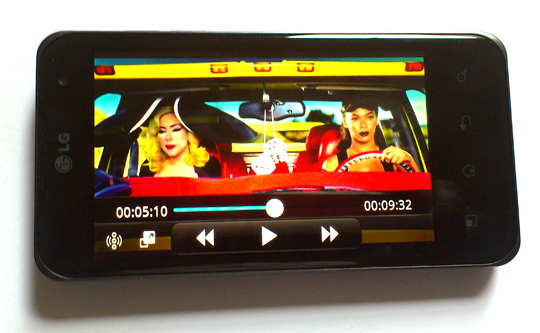 Movie player
Now that the Android Market has over 200,000 apps to choose from, LG has tried to make things a little simpler with the App Advisor, which offers a selection of key apps broken down into categories. You won't need it if you're an Android veteran, but it will come in handy for beginners.
There's also a 'Preloaded Apps' section with ten games and apps, including Amazon's Kindle, which you'll need to instal individually. You can uninstal them later using Android's Application Manager, though their icons will remain in the Preloaded Apps section in case you change your mind. Bloatware? Perhaps, but it doesn't seem to interfere with the smooth running of the device.
LG's weather app sports some nice graphics, similar to HTC's Sense, with rising suns and driving rain, and there's a widget that shows your Facebook and Twitter feeds in two separate streams. Weirdly though, it doesn't retain your latest updates if you're offline – the screen goes blank.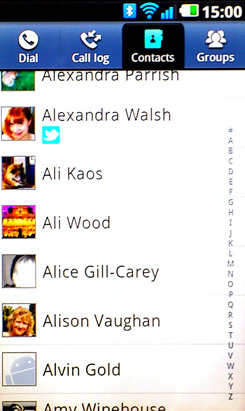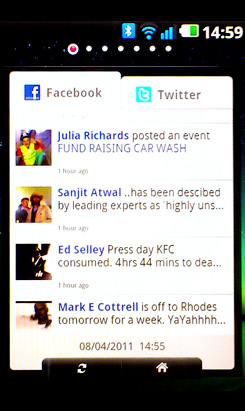 Contacts and Feeds
The music player has an equaliser with 21 settings, including virtual surround, which wasn't very effective. The native sound through the supplied headphones was muffled and overly bassy but, even using some superior headphones, the sound was noticeably below par.