Microsoft has announced that the beta of Silverlight 5 is now available.
That announcement, made by Redmond's corporate developer division VP Scott Guthrie during his MIX conference keynote on Wednesday, won the .NET faithful's biggest applause – more than the news of multitasking or access to smartphones' cameras in the next release of Windows Phone.
Silverlight 5's release to manufacturing is scheduled to occur at the same time as the next generation of Windows Phone, code-named Mango. That's not a coincidence, because Silverlight is the development platform for Windows Phone and also used in the runtime. Mango is expected in September.
Last year, Microsoft kicked Silverlight aside and announced that HTML5 would become "the front-end" for PCs and other devices – phones and tablets – connected on the web. Hearing that, those who'd committed to Silverlight were incredulous. And so they should be: HTML5 is not even finished – and it won't be for another four years.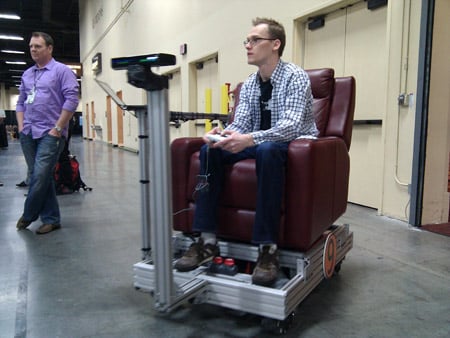 Microsoft's Kinect-steered armchair, here with traditional controller deployed
Six months later, Microsoft is fudging the issue of whether devs should use HTML5 or Silverlight because it knows HTML5 only goes so far – but it's now tied to the standard following last year's coming out.
The company's awkwardness was on display during MIX, when one of its evangelists repeated what's now the party line when asked if devs should embrace Microsoft's closed and proprietary plug-in or the web's open-but-less-fully-featured HTML5. Senior technology evangelist Giorgio Sardo told the MIX crowd: "I'm sure you know your customers better than anyone else. I'm not going to judge which works better."
For once, Microsoft reckons that devs know what their customers need better than it does, so it won't dare to preach one technology over the other. Except when it's Silverlight as an alternative to Adobe's Flash Player, which is something it has emphasized during the last three years.
Silverlight had been Microsoft's answer to Flash for the .NET set. But now that Flash is wobbling under the weight of Apple chief executive Steve Jobs' hype, however, Silverlight's fortunes have also changed, and Microsoft continues to build new versions.
What's packed into Silverlight 5? Hundreds of new APIs, apparently. The headliners? Video decoding can now be done on the PC's GPU for improved quality and performance, there's Trickplay to speed up video without getting chipmunk voices, vector printing, XAML debugging, 3D APIs, COM automation in the browser tying Silverlight further into Windows, data binding, debugging, and support for 64-bit chips.
Silverlight 5 didn't get the biggest overall applause of the event, however. That honor went to Microsoft's decision to give every single MIX attendee a free Kinect hands-free controller for Xbox.
Also getting some adoration was the news that the Kinect Windows beta SDK will be released "this spring". There will be tools for skeletal tracking, building advanced audio capabilities for things such as four-element microphone arrays, and APIs to measure the distance between an object and the Kinect camera.
Microsoft released the SDK after it decided to harness the hacker ethos of those who'd broken the system last year. In a nod to that spirit, the SDK will be available under a non-commercial license. This won't last, though: a commercial license is planned for the SDK.
There was applause, too, for a computer-powered armchair steered using a handset free Kinect.
Judging by the boisterous clapping that erupted when a grinning Guthrie switched to talk about Silverlight 5, though, Silverlight clearly continues to hold its own among the Microsoft faithful not only against the newer stuff but also against some Apple-style HTML5 hype from Microsoft. ®