Need for Speed: Shift 2 Unleashed
Geared up for action
---
Steer the course
Shift 2's challenge stems from its greatest weakness: despite being a vast improvement over the original, handling is still inferior to Forza 3 and GT5. Car weight is disappointingly insubstantial. For all but the most upgraded cars, traction is extremely tenuous and understeer a threat at every turn. Understandable when racing off the forecourt in an unmodified Golf GTI, it's unforgivable when taking to the track in a Porsche 911 GT2. It feels like a ploy designed to nudge casual racers towards the game's detailed tuning system, as simple tyre pressure and downforce adjustments easily correct the inherent imbalance.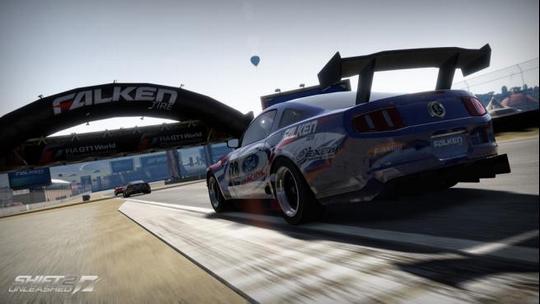 Bridge the gap
Impossible to correct, however, is the weight difference between you and your competitors, which sees you come off second best in almost every collision. Being nudged sends your car into an uncontrollable spin or careering off track and into the tyre wall. But nudge anyone yourself and the same thing happens.
Collisions are, of course, best avoided when racing, but Shift 2's catastrophic consequences are invariably disproportionate, spoiling the view of car damage decals and spectacular – if lengthy - crash animations, and instilling a fear that makes you yearn for the rewind facility de rigueur in other modern racers.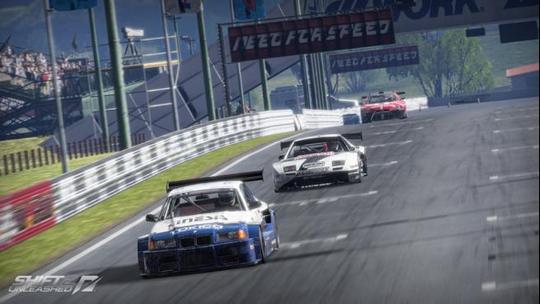 On the grid
It's a shame, because smart competitor AI and breakneck speeds already make for a sufficiently nerve-jangling drive – most exhilarating from behind the new default helmet-cam view. Improving upon Shift's already visceral cockpit POV, inertia and G-force are translated into dramatic visual effects. Hit the accelerator and dashboard instruments begin to blur, slam the breaks and you lurch violently forwards, crash and the screen drains to black and white, simulating momentary concussion. Most impressive of all, as you approach apices the helmet-cam turns to follow the driving line.
Similar topics
Narrower topics