Google unleashes toon squirrel on freetard uploaders
Stop. We mean it. Honest
Copyright scofflaw Google has launched a new campaign - to educate people about respecting copyright. And as you might imagine, it has all the sincerity you could expect from David Irving's guide to the Torah.

Popular little guy
It's aimed at YouTube users who have been flagged for copyright infringement, and includes a cartoon squirrel called Russell, who wears a Pirate's Hat.
In the cartoon, copyright is something very difficult to understand, but always malevolent. Apparently, distributing videos you've taken on your iPhone containing a musical performance you've taped without permission is "infringement". Who thought that up? What a drag!
Russell the squirrel looks mystified, then frightened, when this is explained to him.
Fair use boilerplate legalese is then read out high speed to comical music, which helps demonstrates the complexity and absurdity of this provision of copyright law. Russell the squirrel is advised to seek the advice of an attorney.
Russell the squirrel looks even more alarmed.
Apparently, copyright exists because copyright holders want "to control their content" (Rather than say, distribute it widely in return for money, so creative people can pay the rent). But sometimes copyright holders make mistakes, and you can send a counter-notification to a copyright holder disputing their claims, says Google.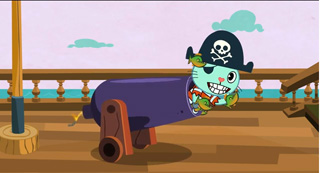 Russell the squirrel
Russell the squirrel looks delighted at this, and says "Yar-har-har!".
Russell then juggles piranhas and is shot out of a cannon – don't do this at home, squirrels! – as we're told that "by singing an original song you're creating your own content. You're the owner of your own copyright and you have the right to post it to YT. Original content is what makes YT interesting."
Original content is what makes anything interesting, of course, but the value to Google plainly lies in the professional, quality stuff that's been uploaded up to its YouTube aggregation site illegally. Large internet companies desperately need lots of squirrels to continue to do this, far more than they need Russell the juggling squirrel to be educated.
With a long-term goal of reducing the value of copyright content to zero, large internet companies such as Google, BT and Amazon can accrue the value of the material in their networks, evading the cost of paying the creators, or performing the transparent accounting that usually goes with the responsibility. (Google is a master of the black box).
That's why so much more space is devoted at these new "educational pages" about "chilling effects", or explaining politically correct but useless Creative Commons licences, than there is to understanding the value of creativity. The goal is not to create better-educated squirrels, but propagandists for Google. Even when Google claims to be respecting the law, it can't help scoffing at it, and winking while it does so. ®
Bootnote
Russell the Squirrel is encouraged to create some user-generated content because, says Google, he'll help create a buzz on YouTube. But how useful is this, really?
Take the phenomenon of "rickrolling" - one of the very few internet crazes that was so popular, it became a craze in real life too. The song that inspired it, Never Going To Give You Up has notched up 47 million views on YouTube. Yet when one of the songwriters received his cheque from Google, it was for the princely sum of just £12. "Buzz" is the only currency that matters on Google's plantation.