Intel to pay OEMs to build Atom-Android tablets?
Ten bucks here, ten bucks there...
Intel is said to be preparing an incentive plan that will subsidize OEMs that put Chipzilla's processors into tablets running Android 3.0, aka "Honeycomb".
According to a report by DigiTimes on Thursday, the plan will reward "first-tier notebook vendors" by paying them $10 for each tablet they ship with an Intel CPU.
Also mentioned in the report was an effort dubbed PRC Plus, which DigiTimes said was intended to entice manufacturers "to use Intel processor's advantage of stronger performance than ARM-based processors and improve on the operating system's user interface and user experience." Intel declined to respond to our request for confirmation or clarification.
The PRC Plus Experience was featured in a slide that Doug Davis, general manager of Intel's Netbook and Tablet Group, used in a presentation during this week's Intel Developer Forum in Beijing: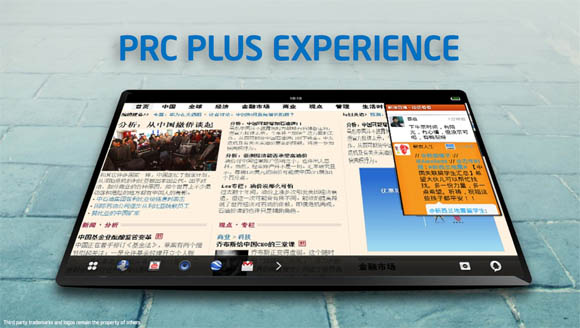 Intel also posted a Mandarin-language video entitled "PRC Plus for Tablets" on YouTube. Its caption reads: "PRC Plus is an optimized UI/UX layer designed to improve the user experience on Intel architecture-based tablet devices. With PRC Plus, users can enjoy a richer tablet experience, such as multi-window and multi-tasking and a seamless connection."
While a $10-per-tablet bounty may not sound like all that big of an incentive, remember that the tablet market is exploding, and those tenners could quickly add up to quite a hefty sum. The market-watchers at DisplaySearch, for example, recently projected that the touch-panel market would top a quarter of a billion units by 2016, with the lion's share of those panels going into tablets.
The number of today's tablets sold with Intel processors, however, hovers around zero. But when the company announced its "Oak Trail" platform this Monday, it said that tablets built using that Atom-based chipset would begin shipping in May. Thursday's DigiTimes report spoke of Intel-based Honeycomb tablets shipping in the third quarter of this year.
At the Oak Trail announcement, Intel said that tablets built using the platform would run "a variety of operating systems," and that the company's "unique 'operating system of choice' strategy" for Atom will support Google's Chrome and Android, Intel's MeeGo, and Microsoft Windows.
The "sources from notebook players" who fueled Thursday's DigiTimes report spoke only of Honeycomb, the tablet-centric operating system that debuted in the Motorola Xoom. No mention was made of Intel's MeeGo operating system, which was dealt a blow when former MeeGoer Nokia decided that Windows Phone was going to be its smartphone OS of choice – although the Finns left the door open for MeeGo as a possible tablet OS.
It also should be pointed out that Google has declined to open source Honeycomb, claiming that it was holding the OS back because "more work to do before we can deliver [Honeycomb features] to other device types including phones."
We can't help but wonder if another reason for Google's deferral of Honeycomb's coming-out party has been Mountain View's discussions with Intel – and presumably with OEMs – which DigiTimes's sources claim have been going on for about six months.
Today's DigiTimes report says that Acer, Lenovo, and Asustek will begin "new netbook projects" in the second half of the year – although the report didn't specifically mention Oak Trail and Honeycomb. It did, however, say that Cisco was "set to launch devices adopting Oak Trail/Android 3.0 targeting the enterprise market."
Android running on Intel is, of course, no surprise – although a Honeycomb port has not been announced. Reports of an x86 version of Android first surfaced last June, Google approached Intel for help in porting Android to Intel's Atom-based CE4100 SoC for use in its Google TV project, and at this year's Mobile World Congress, Intel's Anand Chandrasekher waved an Android phone that was running on Intel's next-generation Medfield processor, scheduled to appear later this year.
Chandrasekher, by the way, who was then head of Intel's Ultra Mobility group, left Intel late last month, a possible victim of Intel's struggles in the smartphone, tablet, and, well, ultra mobility markets.
Although Intel president and CEO Paul Otellini has said that his company is going to "win" in the tablet marketplace, the ongoing dance of operating system developers, silicon providers, and device manufacturers is clearly becoming more frenzied.
Perhaps Intel's rumored decision to include a ten-spot with every tablet-bound Oak Trail platform would bring some bottom line–induced calm to the currently unsettled market.
We doubt it, though. There are many more battles to be fought and soldiers to be sacrificed before the market will anoint the clear winners in this struggle for the hearts, minds, and purchase orders of tablet makers. ®
Bootnote
Doug Davis' presentation in Beijing, in which he discussed Intel's vision of what the company recently dubbed "Companion Computing", contained one chart entitled "Early Stages of Companion Computing" that was so Zen-like in its information-free purity that we couldn't let it pass without notice. Enjoy: