YouView has posted the technical specifications set-top box and TV makers will need to follow in order to support the would-be standard IPTV platform.
The specs will please punters who favour the Linux operating system - it's the mandated OS for YouView-compatible devices - but will annoy anyone who hopes to shift recorded HD content onto their computers or Nas boxes.
For hardware companies, the key product 'must haves' include 10/100Mb/s Ethernet - 802.11n Wi-Fi is optional; WPA and/or WPA 2 must be used - at least 320GB of hard drive capacity, 30GB of which will be reseved for material pushed to the device by content providers; 512MB of memory; two USB 2.0 ports; DVB-T and DVB-T2 tuners; HDMI 1.3 output; and an RGB Scart connector.
HD-capable analogue ports are verboten.
Unsurprisingly, kit has to be able to output at 720p HD at least, and support the key digital TV codecs: MPEG 2 for standard definition content, and MPEG 4 (H.264/AVC) for HD.
"HD broadcast content stored on disk shall be encrypted with AES128 or 3DES" if it's not already encrypted, the rules say. "Content obtained in encrypted form over IP shall be stored on disk as is."
However, "if decryption keys for stored content are themselves held on the hard disk, they shall be encrypted with a key linked to a device identifier such that the keys cannot be extracted if the hard disk is transplanted into a different device".
In short, the spec is intended to make it hard for ordinary folk to extract HD recordings to store and play them elsewhere. How well this will work in practice is impossible to say - Linux hackers have a history of successfully circumventing such limits.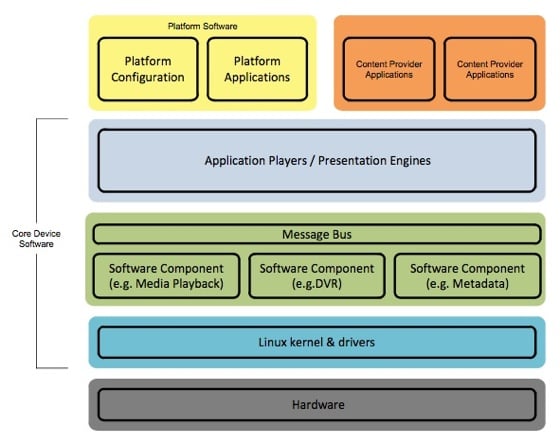 Having an open source foundation may help, but there's a lot more to the YouView device software stack then the Linux kernel, much of it proprietary.
Downloadable apps will be supported using an "application player" runtime environment. Individual content providers' offerings will be delivered through apps that operate within application players. Some may be pre-loaded, others downloaded later.
YouView is backed by seven key stakeholders - the BBC, ITV, Channel 4, Five, BT, SeeSaw owner Arqiva and TalkTalk - all with existing IPTV platforms. The content providers are committed to porting their catch-up services, such as BBC iPlayer, over to the YouView platform.
You can read the full, 229-page YouView spec here (PDF). ®
Sponsored: Webcast: Ransomware has gone nuclear