Apple has moved its online support discussion forum into Web 2.0–land by inaugurating a new social-networking service called Apple Support Communities (ASC).
The ASC service has been a long time in gestation: it was first announced in mid-August of last year – so long ago that one of the topics discussed in the original announcement was labled "From Airport to Xserve". Apple killed the Xserve last November.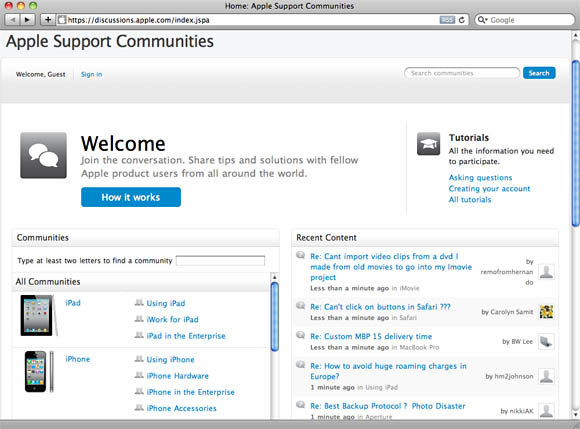 Join the happy fanbois in the Apple Support Communities
Apple has had an active support forum for many years, but the ASC is its new attempt at providing it with a social-network by dividing topics into "communities" in an attempt to make it easier for Apple-product users to post problems, discuss solutions, and identify experts and their successful suggestions.
After you sign into ASC with your Apple ID, you can create an ASC profile that allows you to follow specific discussions, personalize your own photo and avatar (although we couldn't successfully upload a user-generated avatar), and receive email and RSS notifications when topics you're following have been updated.
Views of discussions are now customizeable – flat or threaded – as is the editing and viewing look-and-feel. Navigation options now make it easier to find successful suggestions rather than having to dig through an entire thread, and tags and bookmarks aid finding and returning to posts that relate to your topics of interest.
Interestingly – and perhaps a preview of Mac OS X Lion elements – some of the ASC's user interface borrows from iOS, such as the popover menus like this History listing that was generated after our search for iPad 2 owners who have been bedeviled by backlight leakage.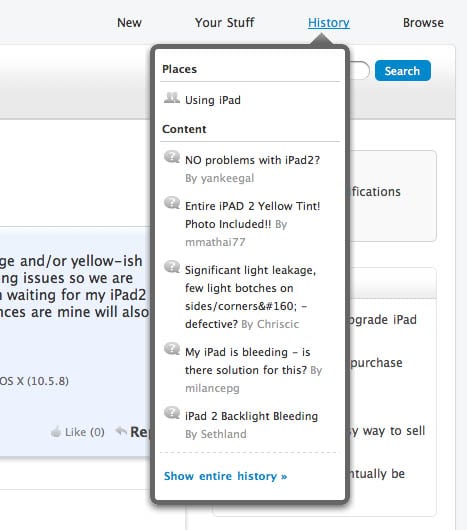 An iOS-style popover menu reveals that we've been searching for iPad 2 backlight problems
Apple being Apple, there are subjects that are verboten. In addition to the obvious and welcome prohibitions against slander, spam, commercial offers, flames, and the like, the ASC "Community Etiquette" guidelines include an admonition to "Avoid speculation and rumors." The Terms and Conditions to which you must agree before becoming an ASC member, however, are more direct:
Unless otherwise noted, do not add Submissions about nontechnical topics, including:
Speculations or rumors about unannounced products.
Discussions of Apple policies or procedures or speculation on Apple decisions.
Users are encouraged to let "other community members know they've helped you," and notes that doing so "gives them reputation points and increases their status in the community." In addition, the terms and conditions note that "Apple may offer you benefits and award privileges for your participation in the Site."
And although an ASC "Reputation, status levels and privileges" page details point levels, at this time there's no explanation about exactly what benefits and privileges that a high point score might provide. ®