This article is more than 1 year old
Hauppauge offers global vision with Broadway 2T
Tech tonic for travelling telly addicts
Here in Blighty, we're lucky enough to have on-line services such as the BBC iPlayer to watch our favourite TV shows again on-line, but travel abroad and access to those services is verboten.
If you're a telly addict with a local language problem, this does rather limit the entertainment to hand. Remote TV viewing is one answer and getting in on the act is Hauppauge that launched the Broadway 2T, a box of tricks that works on mobile devices, without the need for a separate app to be installed, access is from a web browser.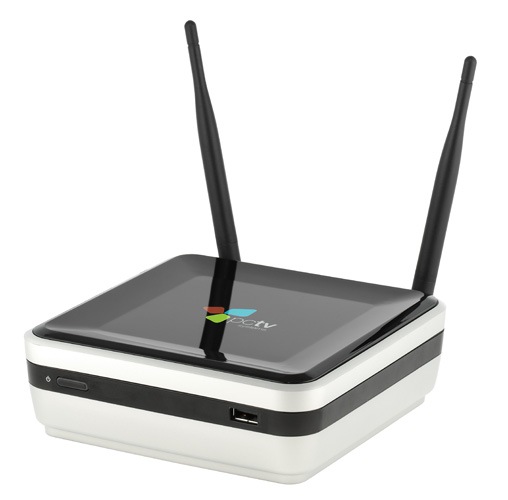 While not exactly a new concept, the likes of Sling have been at it for a while with mixed results, the Hauppauge Broadway 2T features twin DVB-T tuners, as well as composite and S-video inputs.
The unit also has its own 802.11n wireless capability, which enables it to link to your existing Wi-Fi router, so you can locate the Broadway 2T conveniently next to your AV gear, although there is an Ethernet port too, if needed
Utilising its on-board H.264 compression hardware, the Broadway 2T will not only distribute content from its built-in tuners locally, but stations can be picked up anywhere in the world provided you have a decent 3G or Wi-Fi Internet connection.
The transmitted image resolution is 480 x 320 pixels, which is good enough for a mobile or tablet, although Hauppauge is keen to emphasise iPhone and iPad use for now, with Android compatibility due in Q2. Given its raison d'être is remote viewing, this resolution shouldn't be too much an issue for those with itchy feet.
Viewing from a Mac or PC is also an option with the added bonus of being able schedule recordings from one tuner, while you channel hop on the other. Hauppauge will be issuing a free firmware update shortly to support recording to and playing from USB storage devices. Whether one of its two USB ports will eventually support USB webcams remains to be seen, but for now, the unit's analogue interfacing can be used to deliver live camera feeds.
The Hauppauge Broadway 2T costs £229 and is currently available exclusively from Scan.co.uk. ®