HP prepping Spotify-like music service for iPad-killer?
Rumours of cloud music and offline storage for new WebOS tablet-touchers
---
Having acquired the quite lovely WebOS, Hewlett Packard owns potentially the strongest tablet software of them all, and it's all wrapped up in the TouchPad, the most attractive competitor to the iPad. But HP knows this is not enough.
Tablets need to be more than expensive colour Kindles, and leaked details at PreCentral suggest HP will debut an ambitious cloud music service, with cached local storage, when it launches its TouchPad tablet.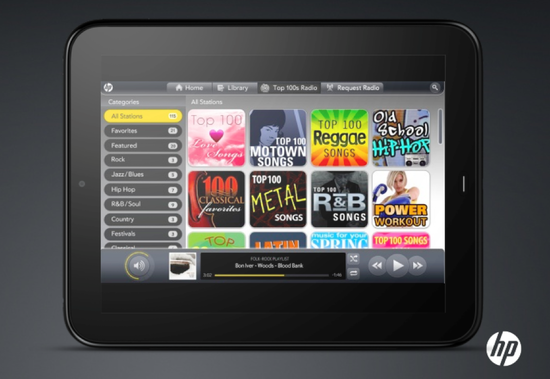 Getting any kind of music service off the ground is expensive and problematic, and cloud music lockers are still mired in a legal uncertainties, particularly over some basic features consumers expect. In some territories, format-shifting is not exempt under copyright law. Buying a CD online and then finding your locker populated with MP3 copies of the songs you've just bought is format-shifting. Even the feature of Amazon's US-only cloud locker that allows songs purchased for download to be moved into the locker may not be permitted in other jurisdictions.
Yet these difficulties are relative. A cloud service has advantages: it may be less cumbersome than trying to play nicely with user's existing music collections. The creator of WebOS, and its previous owner Palm, played cat-and-mouse with Apple over iTunes synchronisation. Palm made its devices masquerade as iPods, but Apple repeatedly blocked it with software upgrades.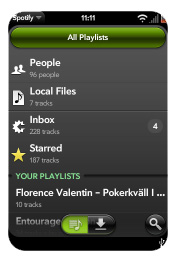 Spotify for WebOS
The HP music service looks alot like Spotify, caching songs for offline use.
WebOS devices already run Spotify, and the tablet version of the OS will run WebOS phone apps – albeit at their native resolution. It is up to the music company to produce a tweaked, TouchPad-ready version.
Apple's success over the past 10 years owes a great deal to finding useful things that people can do with their expensive devices - such as acquire music instantly and legally, listen to podcasts, or read custom-created content. And HP appears to know this. Here is an area where, given Google's toxic reputation with media companies, it's an advantage not being Apple or Google.
Digitimes reports that low sales of Motorola's Xoom tablet have prompted manufacturers reliant on Google for its system software not to rush the devices to market. ®