This article is more than 1 year old
Sony Ericsson Xperia Play Android smartphone
The Playstation phone in all but name
Pushing all the right buttons?
The twin touch-pads take some getting used to and, in truth, do little to improve upon virtual thumbsticks. That said, relieving the screen of directional controls and buttons provides a palpable advantage over traditional touchscreen-only gaming – N.O.V.A 2 and Modern Combat 2 were just two of the games that improved immeasurably in terms of playability when compared to their iPhone counterparts.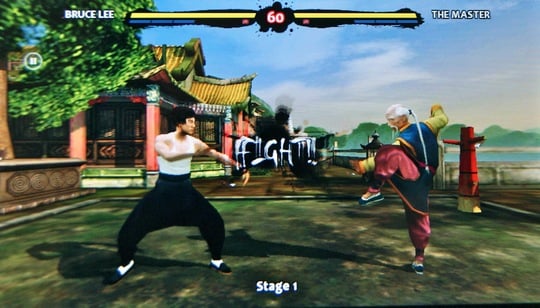 The Bruce Lee game is one of up to seven titles bundled with the handset
Even the otherwise poorly placed 3.5mm headphone socket makes sense when in gaming orientation, as the headphone lead drops comfortably beneath the unit. Yet, the design is not entirely flawless.
The power button, which doubles as the screen lock, is placed too near to the left trigger, which led to frustrating interruptions until I trained my finger to curl evasively over it. And the home and app screens are locked into portrait mode, so you need to swivel the opened unit to read icons comfortably.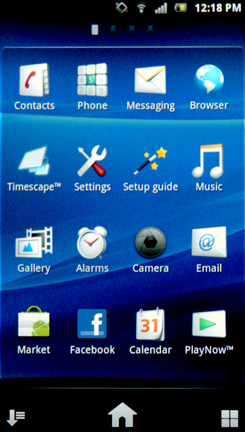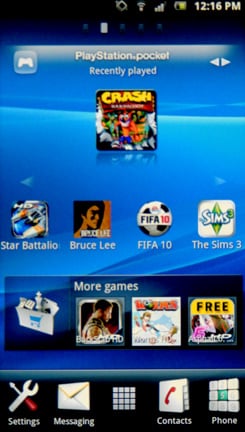 Apps homescreen and Gaming content options
The game browsing and buying experience also makes for uncomfortable reading. Fragmented into three apps: Xperia Play, Get Games and Playstation Pocket, the system will confuse even the most tech literate, and is in desperate need of streamlining.
Worse still, Sony is not imposing any standards on game controls, so the current crop of 'Xperia optimised' Android games have wildly different implementations, with many employing an unnecessary, bewildering mix of touchscreen and pad controls.