Legacy support?
The story follows on directly from the original flick. Jeff Bridges, as computer genius Kevin Flynn, is still stuck in the virtual world of the Grid. Garrett Hedlund, his son Sam, tries to find him and is soon running around in his own Tron Lightsuit. To be honest, the yarn doesn't stand up to much scrutiny, but this is a rollercoaster ride not cinéma vérité.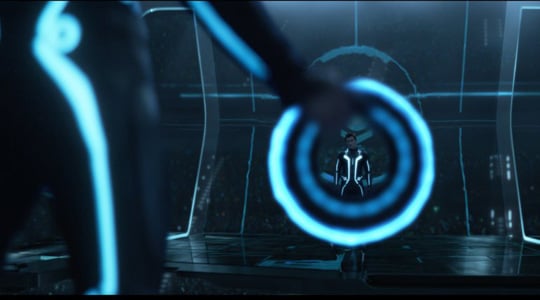 I want you in my ring
The 2D Blu-ray is a beautiful looking hi-def disc. I've seen a lot of great BDs but this one really pops. The detail in the image is often astonishing. One benefit of watching Tron: Legacy in 2D is that the picture is much brighter than the original 3D cinema presentation. Consequently, you get to see subtleties to the photorealistic animation which were just impossible to spot in a theatre.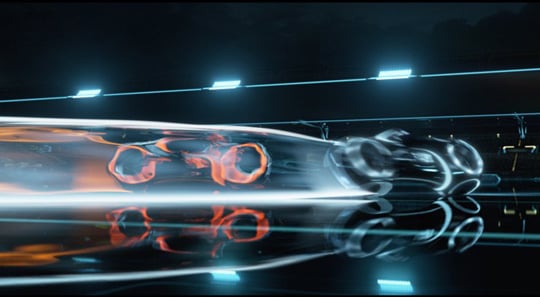 Cycles of light
The 3D disc offers just as much tangible detail as the flat version – obviously filtered by your specs and whatever crosstalk your display generously contributes to the picture – but is a more visceral viewing experience. While you need to wear 3D glasses from the outset, the image only dimensionalises when our hero Sam enters the Grid – it's effectively a modern spin on the monochrome/colour device first used in The Wizard of Oz.
There are not a lot of 'outy' moments, instead director Joe Kosinski uses 3D to emphasise depth and, more unusually, height. At any given opportunity his stereoscopic camera looks downward, which creates a reoccurring sense of mild vertigo.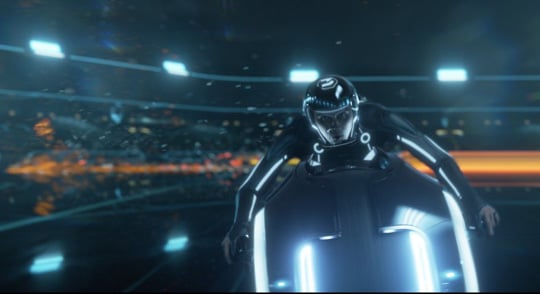 On yer bike
Of course, if you've got chums coming round and you want to show off your new telly, don't worry about this – just jump to the Lightcycle battle sequence. The 3D here is plain jaw-dropping. The film was shot using an updated version of the Fusion camera system developed for Avatar, it's not post production 3D.