This article is more than 1 year old
Hunting of incredibly rare two-horned 'unicorns' forbidden
Only hillbilly hunters have ever seen one alive
Vietnam is to set up a nature reserve for unfeasibly rare – possibly now extinct – two-horned "unicorns".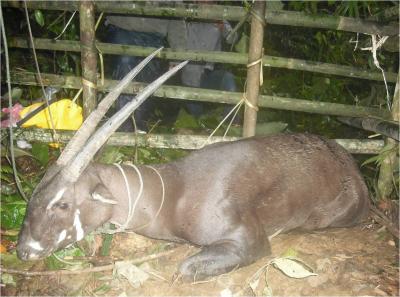 No more unicorn hunting. By order
The creature in question is more formally known as the saola. It is informally referred to as being unicorn-like for its extreme rarity: no scientist has ever seen a live saola and its existence was only confirmed some 20 years ago. In some circles the saola is thought to be responsible for Chinese legends regarding the qilin, a fantastical creature equivalent to the unicorn in European lore.
The last saola encounter took place last year, when a single male was captured by Laotian villagers. Unfortunately the creature died before government scientists could intervene.
Prior to that occurrence, the last confirmation of the saola's existence came in 1999, when automatic camera traps recorded the elusive creatures in their sole habitat – the dense high forests of the Annamite (Truong Son) Mountains along the Laos/Vietnam border, where once the People's Army of Vietnam* marched along the Ho Chi Minh Trail to war against the Americans.
Now the Vietnamese authorities say they will institute a 60 square mile sanctuary for the saola in the forests of Quang Nam province, along the Laotian border. Measures will be put in place to stop the local mountaineer villagers hunting the rare creatures. The hill folk are often of different ethnic background to the main Vietnamese population, and relations between them and the government haven't always been entirely cordial.
"For ethnic minority people, hunting is a way of earning their living," Quang Nam provincial forestry chief Pham Thanh Lam tells the Associated Press.
"They would not spare the saola, so it's necessary to create conditions for them to earn their living to minimise hunting."
This will be done by means of educational programmes and creation of jobs for locals in running the reserve, according to the Vietnamese officials. The local authorities believe that as many as 60 saola may survive in the high forests, though it is always possible that the one which died last year was the last. ®
*Aka North Vietnamese Army, or NVA, in the parlance of US troops at the time.