Sanity saver: Fedora 15 answers Ubuntu's Unity
GNOME-3 leader for desktop Linux?
---
Review The Fedora 15 beta from the Red-Hat sponsored Fedora Project has dropped squarely into a moment of uncertainty and upheaval for the Linux desktop.
The planned new Unity interface for Ubuntu 11.04, that replaces GNOME, is rough start. And while GNOME 3 - Fedora's new default desktop - is considerably more mature than Unity, it's still a radical break with the past that's already bringing out the dissenters.
It's enough to make even the most diehard of GNOME fans retreat to the stable, if somewhat foreign, world of KDE. But not Fedora. Fedora is bravely diving into the GNOME 3 waters, even serving as one of the GNOME 3 live demos. Indeed most users will likely get their first taste of GNOME 3 from Fedora, which looks to be the first major distro to ship a final release with GNOME 3.
Despite their similarities, Fedora has long played second fiddle to Ubuntu in the minds of many Linux fans. Now, however, there are actually major differences between the two, and unless Unity manages to make some serious improvements before the final release of Ubuntu 11.04, Fedora just may come out looking like an island of sanity in a storm of Unity.
Of course such a view of Fedora 15 assumes you like GNOME 3. If you don't, it's probably time to start learning how to tweak Xfce because GNOME 2 isn't going anywhere from here on out.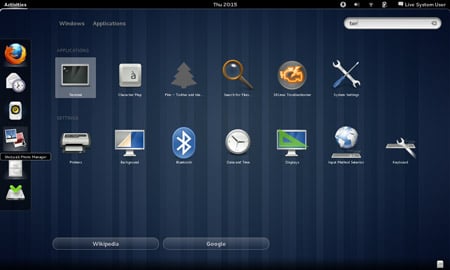 Excellent keyboard shortcuts in the GNOME 3 shell extend to search
Although GNOME 3 will be a jarring shock for those accustomed to working with the GNOME 2.x line, once you spend some time with it, you just might discover it's actually - gasp - better than GNOME 2. It may require changing your work habits slightly - especially if you're a big fan of minimizing windows, since that isn't possible in GNOME 3 - but, if you give it a chance, GNOME 3 has much to offer.
GNOME 3 revolves around the Shell, which takes most of what used to live in the three main GNOME menus and spreads it out into an interface that sits completely offscreen until you need it. The result is a cleaner to be sure, but the real appeal of the shell is that you can navigate nearly everything without taking your hands off the keyboard - or the mouse, if you prefer that route.
Thanks to excellent keyboard shortcuts, you can call up the shell, search and launch a program, search the web, switch workspaces or check on notifications without ever lifting your fingers. If you're a mouse user similar things are possible with mouse gestures - just throw your mouse to the upper left corner and the shell will launch. Then you can use the favorites panel to launch apps, documents or any other favorites you add to the panel.
While the cleaner interface may be at least partly the result of someone at GNOME drinking too much of the "distraction-free working" Kool Aid, the GNOME shell does do an admirable job of making it feel like the entire system is just you and whatever app you're using at the moment - the shell stays out of your way until you need it.
Even Fedora seems taken by the simplicity of GNOME 3's interface; the Fedora 15 theme has been toned down considerably. The characteristic blue icons are now gray (though this may be do to GNOME 3's lack of theming tools) and the new wallpaper is nicely understated.
Themes are one place that small cracks begin to show in Fedora 15. For example, Firefox has been updated to version 4, but the scrollbars are noticeably blue because they still use the old Fedora Firefox theme. Similarly apps like Google's Chrome browser also look a bit out of place. It's a minor point, and not one the Fedora has much control over, but it does hint at a few areas GNOME 3 still needs to work on.
Faster boot and shutdown
Overall, though, Fedora 15 has slipped into its new GNOME 3 dress with aplomb. If you don't like GNOME 3 that's one thing, but it's hard to fault Fedora's integration of it.
GNOME 3 may be the biggest news in this beta, but Fedora 15 does manages to slip in another major change. Fedora 15 now uses systemd as the default system and session manager. Systemd was in Fedora 14, but not enabled by default. The result of the completed transition will be faster boot and shutdown times, especially on SSDs.
Fedora 15 manages to pack in a few other new features as well, including a dynamic firewall management system, better power monitoring tools and the usual slew of programming language updates that Fedora is known for.
While Fedora 15 is definitely still a beta and not recommended for everyday use, it's leaps and bounds beyond Ubuntu's first beta release. If you want to test out GNOME 3, the Fedora 15 beta makes an excellent way to use it. ®