Google has unveiled a new service that lets businesses upload, process, and share mapping data via its familiar Google Maps and Google Earth platforms.
Announced today and scheduled for general availability in the third quarter, Google Earth Builder is meant to replace old-school GIS (geospatial information system) desktop software with a service that operates entirely on the web. The company tells us that two organizations – Ergon Energy and the National Geospatial-Intelligence Agency (NGA) – have already signed contracts to use the service. The NGA provides geospatial data and intelligence for the US government.
"We chose Google Earth Builder as our strategic geo-spatial platform as it enables the enterprise with the necessary performance, scalability, flexibility, visualisation richness, and seamless device/platform interoperability, to transform asset management and service delivery of a large, geographically dispersed Energy Utility," Ergon Energy program director James Bangay said in a canned statement.
With Google Earth Builder, you can create map "layers" that can then be published to Google Maps and Google Earth. All data is stored, processed, and manipulated on Google's servers. Naturally, Google paints the service not only as less expensive than traditional GIS software but also as faster and more efficient. "Server load and provisioning are handled by Google's cloud technology so you spend less time maintaining and updating servers and software," the company says.
In essence, the service's map layers are laid atop Google's existing Maps and Earth content: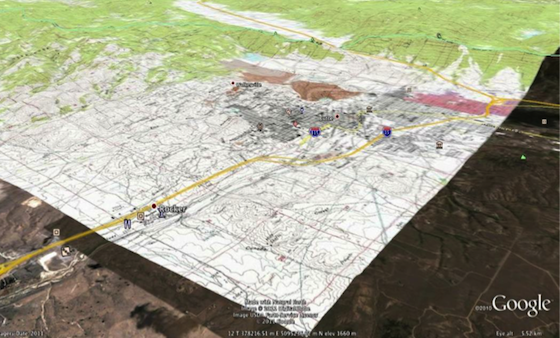 With the service operating atop the Google's famously distributed infrastructure, all data is backed up to multiple data centers, and you can instantly share your mapping data with users both inside and outside your company. Data can be viewed on multiple devices, including smartphones – and yes, encryption is provided.
Google says the service will be "competitively priced with traditional mapping products", and it will be available in more than 100 countries across the globe. A company spokesman says that Google sales people are now available to discuss use of the service. ®
Similar topics