Dynasty Warriors 7
The art of score
---
Choose your weapons
Once in the thick of the action animation, backdrops and effects are okay, but never spectacular. Draw distances are unforgivably poor, with garrisons and war machines suddenly popping into existence. Similarly, groups of soldiers will appear on the battlefield, as if by magic. Character models can also be unwieldy and appear awkward, particularly if asked to do anything except run or fight. One particular section, in which you must 'climb' a rock face, is of particular embarrassment as the character model hops jarringly up the unconvincing terrain.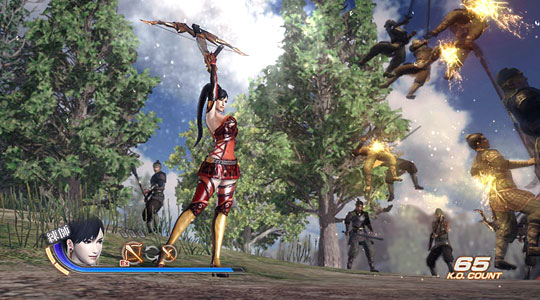 Tai Chi break?
Each fighter is able to hold two weapons and switching between the two is essential to prolong combos and up the damage quotas. Faced with a choice of weapons from the humble sword, through to pike, club, rapier, tonfas, claws and more, you'll soon be wreaking a particularly deadly havoc on the field of war, as the kill counter gleefully spirals forever up.
Disappointingly, however, while there are a huge number of weapons on offer, each of the game's heroes wielding swords, axes, and the like, are exactly like the next – seemingly the motion capture and animation budget didn't stretch to include different techniques within the same weapon category. Hero characters might be capable of felling fifty enemy soldiers with the merest swipe of a sword, but it will always be the same swipe; not ideal when it comes to keeping things fresh.
As in previous games, the hostiles on show are a mix of foot soldiers, captains and generals – only the latter two categories offering any sort of resistance. Despite often being surrounded by fifty or more soldiers you'll rarely feel threatened. In fact, in my experience, most game over screens tended to be caused either by one of a fraction of singularly powerful enemies, such as the peerless Lu Bu, or else a mission-critical friendly unit dashing off to his death; much to my personal chagrin.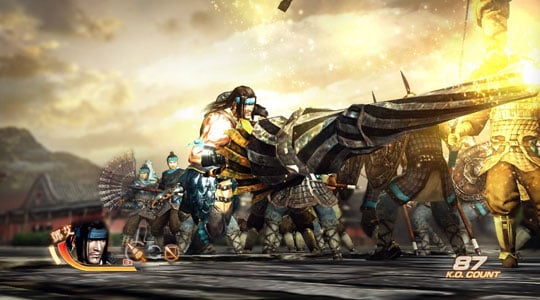 Heavy weapons
Fighting largely consists of hammering the standard attack button while interposing a strong attack here and there in order to pull off a variety of finishes to your combos. Once fully charged, it's also possible to unleash so-called 'Musou' attacks, magical assaults ideal for causing widespread damage and knocking down all hostiles, regardless of size and strength. It's a simplistic formula, but one which becomes oddly hypnotic due to the sheer number of foes cast asunder.