Dynasty Warriors 7
The art of score
---
Background activity
Once the opposing forces at any one area have been scattered, you'll be checking the map for the next flashpoint, ad infinitum, until the battle's won. Of course, this being a war and all, friendly units will often accompany you, just don't expect them to contribute much. Lowly soldiers of both sides are usually content to stand motionless in front of each other, rather than bother to swing a weapon (just when you thought the battle couldn't get less convincing).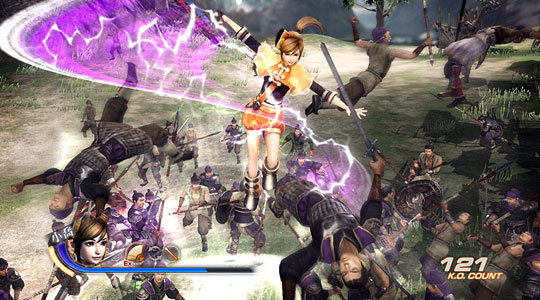 Give it a whirl
To throw in a little variety, some missions take the action indoors, much to the detriment of the camera, which has to be cajoled into a useable angle much more often then when fighting outside. Further variety, in the shape of the more open ended 'Conquest' mode, at least offers something beyond the campaign, but even planning domination of the land requires the same old fights time and again.
Multiplayer options are similarly meagre, limited to a poorly implemented on-line two-player version of Conquest mode, which seems to hinder players starting a game at every turn.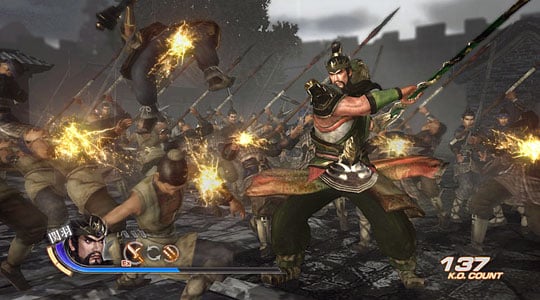 Battle fatigue
Verdict
Lacking ambition, overly repetitive and with only barely passable special effects, Dynasty Warriors 7 feels like the gaming world's equivalent of the straight to DVD movie – a cash-in built to take advantage of a loyal following. Now that's done and the money has been made, can the inevitable eighth offer something new please – maybe some of the parkour and waterfall surfing hinted at during the introduction? ®
More Games Reviews

Total War
Shogun 2
Crysis 2
Homefront
Killzone 3
Mindjack

Dynasty Warriors 7
Seven games later, will Dynasty Warriors finally break the mould and embrace current gen hardware? Available Xbox 360 (tested) and PS3.