This article is more than 1 year old
Minotron: 2112 on iOS 4
Blast from the past
More complicated, unfortunately, is the adjustment required by Minotron's unique control system. A new take on the standard twin-stick scheme, the first finger to touch the screen moves your Minotaur, while the second directs your bullets. It's a clever way to instantly interchange controls and avoid losing any action under a finger, but years of twin-stick muscle memory proves difficult to unlearn, and it's a novelty that won't please everyone.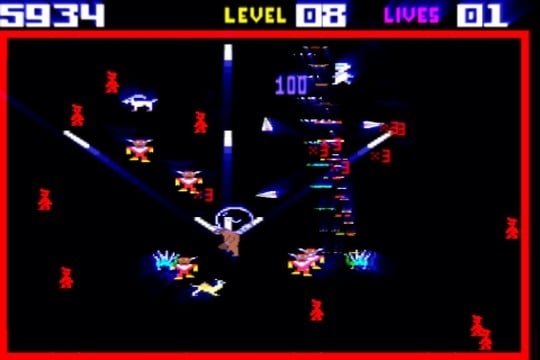 Numerous levels maintain the challenge
A variety of power-ups and obstacles are added to the mix to provide tactical variation between levels. Raindrops, screen-bisecting lasers and suicidal running men all increase the chaos, while collectibles such as three-way shots, bombs, invincibility and extra lives ease progress through the game's stern test of skill and reflex.
Despite its game of yesteryear punitive feel, there's also plenty for casual players to enjoy. In Simplified Mode, players only have to avoid enemies, with aiming and firing controlled automatically, whereas Assisted Mode tempers the challenge by providing an indestructible helper droid. Even on Hard, completion is made tantalisingly possible by an option to resume after defeat at the highest level reached, albeit with only one life intact.
Minotron's real compulsion arrives not from its mechanics or difficulty, however, but from its playful, esoteric nostalgia. From the Intellivision title screen and the phosphorous afterglow of text, to the 8-bit speech synthesis and arcade sound sampling, the game is a treasure trove of 1980s gaming.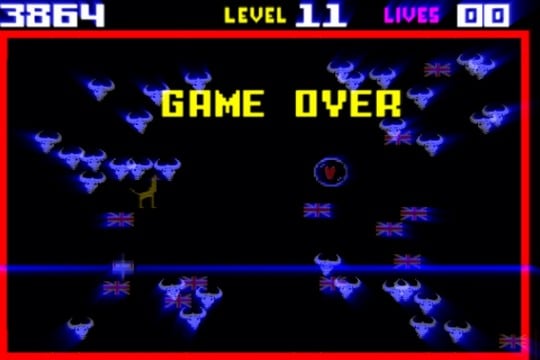 The eternal pocket money challenge
You might struggle to place every reference, but if, like me, you misspent your youth in front of a Colecovision and your pocket money in dingy Fairground arcades, you'll instantly recognise them all.
Verdict
Whoever said nostalgia is a file that removes the rough edges from the good old days had clearly never heard of Llamasoft's Minotaur Project. As with Minotaur Rescue, Minotron delivers an authentic 8-bit trip down memory lane, pixellated warts and all. Minotron may feel like a unpolished blast from the past, but it is also, happily, just a blast. ®
iOS and Android - Reg Hardware's resident game guru, Andrew Bailey, will be making his pick from all the key mobile gaming platforms every month.

Minotron: 2112 on iOS 4
A wondrously barmy slice of Llamasoft gaming, as nostalgic as it is eccentric.