Taser International, the firm behind the famous, controversial electric stun weapons, has announced a new model. The double-barrelled Taser X2 can be discharged twice without reloading.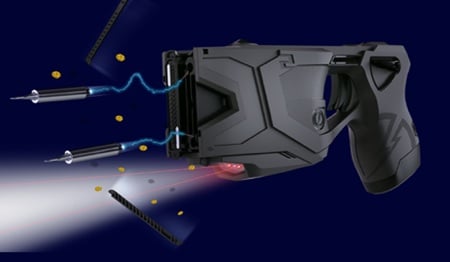 Snap and crackle means less popping of caps, hopefully.
The company had previously brought out a triple-barrelled X3 model – also available in a special model intended for use on wildlife rather than humans – but this is apparently overly large and bulky for most Taser customers, who are typically US law-enforcement types required to carry ordinary lethal-force pistols and much other belt gear as well as their electric zapguns.
Taser describes the new X2 as "the most voice-of-consumer designed taser device" and "designed by law enforcement for law enforcement". It is said to be of similar size to a normal single-shot Taser X26.
Like all Tasers, the X2 works by launching a pair of darts angled slightly up and down which trail thin wires back to the weapon. Provided that the darts make contact with the victim's body at suitable separation, the user can then pass a crippling pulsed electric current through the target. This will normally leave the hapless individual thrashing helplessly on the ground.
Taser advocates say that this treatment, while unpleasant, is far less damaging both to victim and user than other means at cops' disposal for subduing people who refuse to obey lawful orders: this would normally mean the use of clubs, beanbag or baton projectiles, gas or mace, "come-along" grips or holds etc. Critics don't normally dispute this, but suggest that possession of Tasers encourages cops to use force more than they otherwise would, or even that Tasers are used as a means of illegal punishment or torture.
That said, a Taser generates an internal log of every discharge and sprays forensically-verifiable unique confetti around the area on being fired, making it a poor choice for the nefariously inclined copper. Certainly, while London Metropolitan police units who have been issued with Tasers have come under the spotlight for allegedly making questionable use of force, this has centered on their use of other more traditional techniques.
The controversy doesn't seem to be injuring Taser International's sales, with the company announcing several large orders in recent weeks from various US federal and local agencies as well as some (unnamed) overseas customers.
The firm also produces several models for sale to civilians and a range of products targeted at the military – for instance the Shockwave, a kind of Taser landmine system. These latter don't appear to have achieved any great success. ®