Spyeye sperm-blimp in US flight trials
Owning company changes name for third time
A company seeking to sell novel, sperm-like robot airships for surveillance missions says that its "Argus One" tadpole spy blimp has "completed initial flight testing". The firm has also renamed itself for the third time.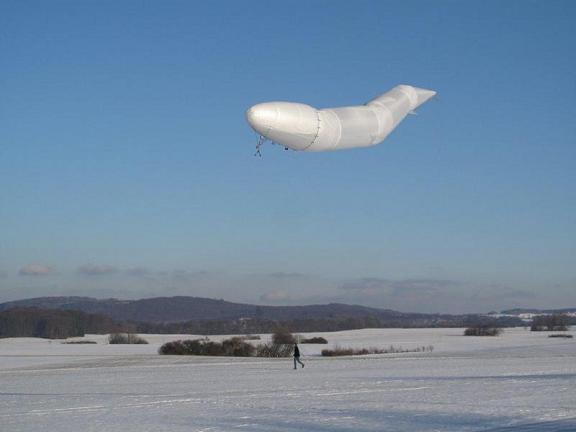 Vorsprung durch samenzellenluftschifftechnik.
The airship in question was formerly known as the STS-111. Its unique segmented design was originally developed by TAO Technologies GmbH of Stuttgart, and was test-flown in Germany back in 2009.
The segmented tadpole design, said to offer superior resistance to twisting and bending caused by air currents, was coupled by TAO with the "unique weightless Fuelgas system". This involved running the craft's engines on gaseous fuel mixed so as to have the same density as air, kept at normal atmospheric pressure inside the ship's envelope.
This system meant that the ship's buoyancy would not increase as fuel was burned, so avoiding the need to valve off expensive helium in order to avoid runaway ascent. Sadly perhaps, prior art was well-known: the famous 1930s dirigible Graf Zeppelin used the same method.
The 2009 tests had followed an agreement between TAO and US firm Sanswire under which Sanswire would market tadpole-airships in the States for the usual modern lighter-than-air prospective purposes of comms-relay and surveillance.
Sanswire had formerly been known as GlobeTel Communications Corp, but changed its name in 2008 (GlobeTel had purchased the airship company Sanswire in 2004, but this had not led to any aircraft). Until 2002 it had been known as American Diversified Group Inc. Shortly after becoming Sanswire it announced that satellite-tracking firm Global Telesat Corp would invest in it with a view to making use of the firm's prospective lighter-than-air technologies.
In 2010 the STS-111 was delivered to the States. Despite being named one of "the 50 best inventions of 2010" by Time magazine, it seems that the ship was not actually ready for use. It has now become the "Argus One", apparently with the addition of export-controlled US technology which regulates the movement of its segments. The enhanced ship is now expected by its owners to carry out further flight tests at the US Army's Yuma proving ground in Arizona this summer.
Meanwhile Sanswire has renamed itself again and as of yesterday is now known as World Surveillance Group Inc. At the same time the firm has announced that it will purchase its 2008 backer Global Telesat.
GlobeTel and then Sanswire have been embroiled in a long-running investigation by the Securities and Exchange Commission (SEC) since 2007. This has seen two GlobeTel/Sanswire executives jailed and summary judgements issued earlier this month against two others.
According to the SEC complaint filed against the company in 2008 (pdf):
Invoices falsely created the appearance that GlobeTel's subsidiaries were buying and selling telecom "minutes" at no profit. In reality, GlobeTel and its subsidiaries never bought or sold anything.

GlobeTel issued periodic reports, registration statements and press releases that misled investors ... GlobeTel sold about $1.6 million in stock through unregistered sale ... GlobeTel purported to be in a number of businesses from 2002 to 2006, including the development of an airship ...

In 2004, GlobeTel bought all the assets connected to Sanswire Technology's ("Sanswire") business of designing and building airships for $2.8million ... Sanswire had no audited financial statements, and its accountants had said they could not audit the company's books ...

If GlobeTel had filed Sanswire's financial statements as required, a reasonable investor would have known that GlobeTel had paid $2.8 million for a business that had no revenue and whose books could not be audited ...
GlobeTel/Sanswire, now World Surveillance Group, announced last December that it had settled with the SEC. Under the settlement terms the firm was required to pay a civil penalty of $300,000.
"This settlement is in the best interests of the Company and its shareholders as it brings a long SEC investigation and lawsuit to closure," stated Michael Clark, company chairman. "We are extremely pleased to have resolved this matter and look forward to moving on to execute our current business strategy." ®