Famous upstart startup rocket company SpaceX, bankrolled and helmed by renowned internet nerdwealth hecamillionaire Elon Musk, has once again sent its goalposts racing ahead of its rapidly-advancing corporate reality.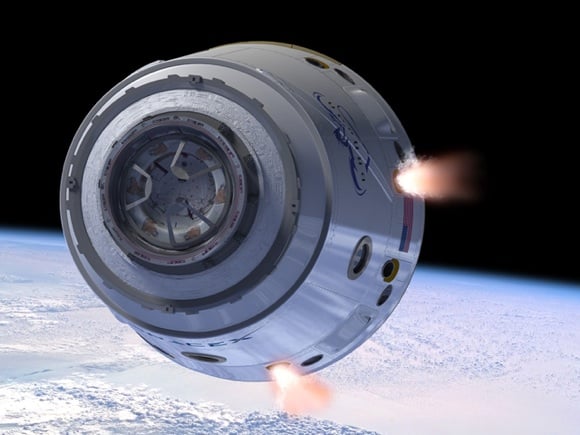 A proper Dragon can breathe fire as well as fly
The plucky challenger has stated that its "Dragon" capsule is not merely capable of delivering supplies to the International Space Station: it is - potentially - also capable of carrying astronauts to the space station and back down to Earth again.
In a statement released yesterday, Musk and SpaceX also make the bold claim that the Dragon, once fitted with modifications that the company is now developing under NASA contract, would also be able to land "almost anywhere on Earth or another planet with pinpoint accuracy, overcoming the limitation of a winged architecture that works only in Earth's atmosphere" (our emphasis).
The current version of Dragon, which has successfully flown to orbit and back once in a test flight launched by a SpaceX-made Falcon 9 rocket, is intended for unmanned supply flights to the ISS in the same manner as Russian Progress and European Space Agency ATV ships. Achievement of this capability by a company like SpaceX, which is not yet nine years old and which only recently passed the 1,000-employee mark, is quite remarkable enough: this puts SpaceX on its own at roughly the same level of space punch as the 19 allied nations of the ESA.
Not content with that, SpaceX has always said that Falcon 9-launched Dragon is intended to become a manned craft. The firm intends to win NASA business transporting astronauts to and from the space station in the imminent post-Shuttle era, when the only vessels able to move crews to and from the ISS will be Russian Soyuz ships.
There are other contenders for this work, of course. The Orion ship from NASA's now largely-cancelled post-Shuttle "Constellation" plan is still being built, though at the moment there are no firm plans for a man-rated rocket to lift it into space.
There are other "commercial crew" ISS-ferry contenders besides SpaceX, though these generally plan to launch their capsules or spaceplanes atop boosters from the established US rocket industry rather than building their own. (Boeing is the exception with its CST-100 capsule, as Boeing is also part of the established rocket base - and it has said that CST-100 could go up on a Falcon 9 if NASA chooses.)
Under a $75m NASA deal announced this week, SpaceX will fit Dragon with the only thing it lacks to make it safe to carry people - a so-called "launch abort" system. Launch abort is to manned rockets what ejector seats are to jet fighters; a way of firing the crew safely away from the craft in the event of a disaster and bringing them down to a safe landing. Rocket stacks, being basically huge lightweight towers full of explosives, are particularly dangerous during launch and so an escape system for astronauts is especially desirable during this stage of flight.
Similar topics