This article is more than 1 year old
Samsung countersues Apple on new ground
The best defense is a good offense
Samsung has countersued Apple in response to the raft of patent- and trademark-infringment lawsuits that Cupertino launched against it earlier this week.
But the Korean electronics giant isn't fighting back against Apple's allegations that it appropriated the iPhone and iPad's look-and-feel. Instead, it's mounting its counteroffensive on completely separate technical grounds.
Samsung has long been criticized for being a copycat, appropriating designs of everything from TV sets to feature phones. Steve Jobs, during his presentation announcing the iPad 2 on March 2, lumped Samsung in with Android, HP, RIM, and Motorola when he dubbed 2011 as "the year of the copycats."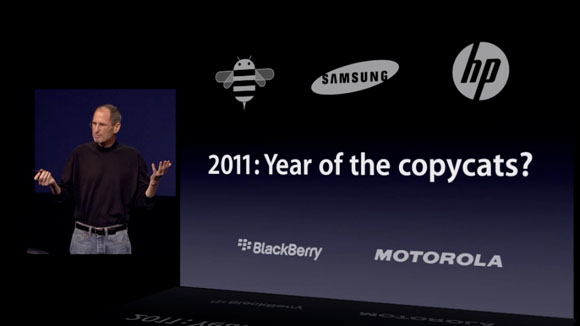 Steve Jobs may well have dubbed 2011 as "The year of the look-and-feel lawsuits"
But instead of defending its UI and design choices, Samsung's lawsuits, filed on Friday in Seoul, Tokyo, and Mannheim, Germany, allege violations of technical patents: five Korean, two Japanese, and three German. A Samsung spokesman told The Wall Street Journal that the alledgedly infringed patents involve "transmission optimization and reduction of power usage during data transmission, 3G technology for reducing data-transmission errors and a method of tethering a mobile phone to a PC to enable the PC to utilize the phone's wireless data connection."
By contrast, the lawsuit that Apple filed on Monday focuses on alleged infringment of seven user-interface patents, three design patents, three violations of trade-dress rights, and six icon trademarks.
Among the more interesting parts of Apple's suit is the allegation that Samsung violated Apple's trade dress "for the overall design of the product, including the rectangular shape, the rounded corners, the silver edges,the black face, and the display of sixteen colorful icons," as noted by long-time patent-watcher Florian Mueller in his useful overview of both companies' allegations.
Now Samsung is opening up another front in the legal battle. "Samsung is responding actively to the legal action taken against us in order to protect our intellectual property and to ensure our continued innovation and growth in the mobile communications business," Samsung said in the statement as reported by Bloomberg, Korea's Yonhap News Agency, and others.
This latest statement echoes the Korean electronics giant's original response to Apple's lawsuit, when it at that time said: "Samsung will respond actively to this legal action taken against us through appropriate legal measures to protect our intellectual property."
Samsung's rapid response hints that much preliminary work on the countersuits had already been in development – a presumption given weight by Steve Jobs' stand-in Tim Cook. When speaking with analysts and reporters after announcing Apple's second-quarter 2011 financial results on Wednesday, Cook said that the two companies had been "trying for some time to work the issue." But having failed to come to a resolution, Apple "decided that we needed to rely on the courts."
During that same conference call, Cook was careful to draw a distinction between Samsung as a whole and the part of Samsung that's the target of Apple's suit. "We are Samsung's largest customer, and Samsung is a very valued component supplier to us, and I expect this strong relationship will continue," Cook said, perhaps hoping to calm investors' fears of a disruption in the iOS-device supply chain.
"Separately from this," Cook continued, "we felt the mobile-communication division of Samsung had crossed the line."
With Friday's lawsuits in Europe and Asia, Samsung is not only ignoring the line that Cook accuses it of having crossed – that battle will have to wait until the US District Court of Northern California takes up Apple's lawsuit – it is also internationalizing the dispute against what Cook claims to be its largest customer.
Despite Cook's assertion that his beef is only with one Samsung division, Friday's lawsuits show the Korean company as a whole is responding in line with the old sports cliché that the best defense is a good offense.
This is corporate hardball at its most raw: two global companies wielding whatever weapons they think most effective in a deadly serious game of threats, assertions, and legal leverage. ®