This article is more than 1 year old
Brit outfit rolls own virtual server appliances
Rack and roll
A British consulting company that specializes in server virtualization was so frustrated by the mismatch between general purpose x64-based servers and what the popular hypervisors from VMware and Citrix Systems required that it has rejigged itself into a hardware vendor pushing what it calls virtual machine appliances.
Virtual Machine Company, based in Cambridge, was founded two years ago by Steve Barnett and Nick Hutton to do virtual machine installations at the financial giants in the City of London.
Barnett, Hudson, and a number of the early employees at the company had worked in the high performance computing and telecom fields, so they had experience with systems and modifying them to run very specific workloads. They had no intention of getting into the hardware business.
"In our consulting engagements, we discovered that we could never quite get the right mix of cores, memory slots, RAM speeds, and other features that would let the hypervisors run optimally," Barnett tells El Reg.
One big issue was that on many general purpose server designs, as you add more memory sticks or fatter memory sticks, the speed of the memory has to be geared down to keep the system from choking. So VMC built a few prototype machines and proved that you could tune up a box specifically for a given hypervisor and deliver more performance than you could with a generic box from Hewlett-Packard or Dell.
Since the initial Virtual Server Appliances were launched a little more than a year ago, VMC has gone to motherboard and system maker Super Micro to create its own custom motherboards that offer fat memory capacities using dual-ranked 8GB DDR3 memory sticks but also allow for the memory to run at 1.33GHz even in large banks and even running at the lower 1.35 volts (which saves on heat). The memory is ECC and has chipkill scrubbing as well.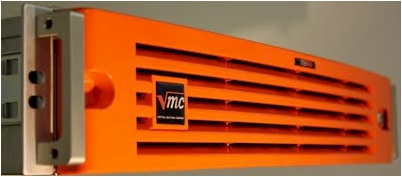 The VMC 1200 Series virty server appliance
The VMC appliances are based on the Opteron 6100 processors from Advanced Micro Devices, and use its SR5690/SP5100 chipset to glue processors to the peripherals in the system.
The company has standardized on the twelve-core Opteron 6164HE processor, which has an ACP rating of 65 watts and which spins at 1.7GHz. To VMC's way of thinking, the extra heat created by the faster 80 and 105 watt parts are not justified by the performance those extra clocks bring, not when the real issue in a server running virtual machines is memory, disk I/O, and network contention.
That is why the VMC machines don't use disk drives, but rather come with a single 100GB flash-based SSD from Intel, which stores the virtual machine hypervisor and other systems-level software needed in the appliance.
The SSD has a very high I/O bandwidth – more than what a slew of disks could deliver, if you could jam them into a 1U or 2U rack-mounted server, which you can't. The SSDs also generate a lot less heat than disk drives, and disks are not necessary in the appliances because for most customers installing private clouds, machines are installed in parts or even in threes for n+1 redundancy.