How I learned to stop worrying and love SSDs
An upgrader writes ...
When, last year, the price of decent SSD drives veered towards £1-a-gigabyte, I decided this was no longer the enviable domain of the hot-rodder. Concerns about data integrity were enough to keep me hesitant. But finally, I took the plunge. It was a revelation.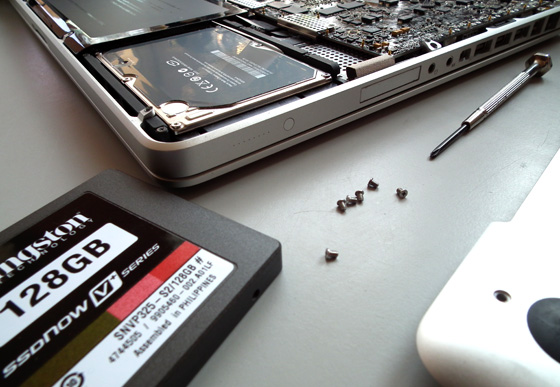 Currently an upgrade for most laptops, SSDs are destined to become standard issue
In twenty years of trying to eke a bit of extra performance from my machines, nothing has made quite such a dramatic difference, although there have been some reasonable performance boosts along the way.
I'm often called out to fix something, and for the last 15 years it's been fairly easy to fix somebody's ailing machine. If it's on fire, grab a damp tea towel. If it's clicking, they need a new hard disk. For the rest of the time, adding a bit of memory to a grinding system has usually made the difference between torture and comfort, and been doable on the cheap.
Apple in particular had a period where it moved to a much more demanding OS, but chronically under specified the amount of memory shipping by default. It didn't help that the Motorola-supplied chips were way behind the market (and we realised how much when it moved to Intel), and that the demanding Quartz compositor really needed a decent GPU, which, of course, the consumer laptops didn't have.
The technically savvy punter would place an order for the extra memory alongside the order for the new Mac, and may not have noticed these shortcomings. However, much of Apple's vast consumer market – ordinary people who expect the computer to just work – simply took it on trust.