This article is more than 1 year old
How I learned to stop worrying and love SSDs
An upgrader writes ...
Who needs to sleep?
So the SSD is a revelation. Firstly, I find myself using different applications. On a four-year-old MacBook, Photoshop opens almost as quickly Preview – the default Mac OS X image viewer. There's little point in associating Preview with images now. And since a cold boot takes 10 to 15 seconds, there's little point in putting a PC to sleep either.
SSDs specifically cured one feature I used out of necessity, that was a real speed handicap: disk encryption. The performance penalty of FileVault is now negligible. I don't even remember it's on, until I log out, and see the clean-up screen.
This is most impressive, considering that the e-mail client creates hundreds of thousands of individual files. Thousands more files are scattered around the disk. I'd expected to see performance improvements on large reads and writes, but this is where it really pays off.
I also find myself using Virtual Machines much more than I expected. Installations probably take half as long - and reviving a sleeping VM is almost instant. If you find yourself regularly using Windows on a Mac, you'll want an SSD.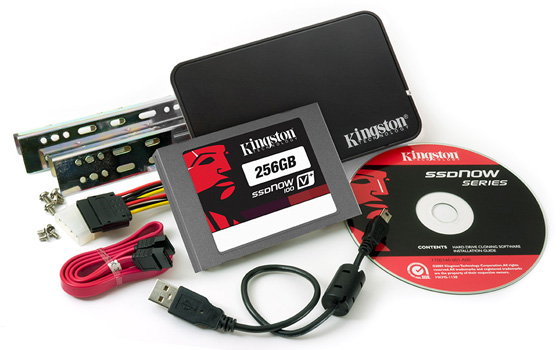 Kingston's approach to SSD transplants includes an enclosure for the old HDD and cloning software
Since tasting the first hit, I've gone on to give three machines the upgrade, largely because of the convenience of Kingston's SSDNow bundle, which includes all the bits and bobs and a nice USB enclosure for the drive you're swapping out, and a case design held together by a slider rather than the screws.
For pure performance, and if money is no object, it has to be an enterprise SSD. But most users won't require a "100 per cent duty cycle" - that some servers do - and won't need the guarantees that come with such kit. Most of us don't have SAS (aka SCSI) interfaces, for that matter. And for an enterprise SSD, you're looking at around £3/GB - nearly three times the rate of regular SSDs. But for value and practicality, Kingston is a good bet, and I'm a Kingston convert. You can find a 128GB V+100 kit for under £120 on eBay, or a 256GB for around £300. But you can judge the capabilities and choice available from our recent SSD roundup, where the latest Samsung came out on top.
The SSD conversion has meant a few compromises, and arguably, pushed discretionary spending (somewhat reluctantly) in other directions. 256GB is just enough for a my basic music and photo collection - and doesn't leave room for my clippings archive or backpages, or any game files. So I've been using shared and off-line storage much more and looking for the perfect home NAS. The search for the latter isn't a happy story, but I'll save that for another day.