This article is more than 1 year old
How I learned to stop worrying and love SSDs
An upgrader writes ...
Fly in the ointment
Of course, for desktop users with spare drive bays, this storage shuffling isn't so much of a problem. At this stage, though, grabbing an SSD as a desktop boot drive is a no-brainer – and a 64GB unit will suffice.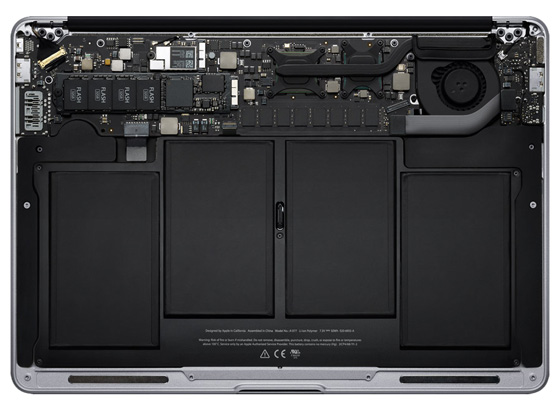 Apple's new MacBook Air has a distinct lack of customer installable parts
There's just one fly in the ointment – the age of the upgradeable computer is vanishing. Desktops are becoming superseded by laptops, and laptops are becoming increasingly hard to service. The options, and documentation, is disappearing.
Ten years ago Compaq, Toshiba and IBM released service manuals as a matter of course – allowing you to do a full tear down. Lenovo still does, bless 'em, with its ThinkPads. At the other extreme, with Apple's latest Air laptops, for example, there are no upgradeable parts – battery, memory, and HD are locked down – and require, at the very least, an exotic set of screwdrivers. This trend is moving into the professional range. And the demand for thin and light means little other than the memory is upgradeable, if at all.
As for reliability concerns, these are answered in the old-fashioned way: make lots of backup copies. Kingston says a typical MLC unit has a write/erase cycle endurance of approximately 10,000 per cell, compared to 100,000 cycles per SLC cell, which means SSDs use a number of different techniques to spread the wear across the drive.
A heavy user writes about 5GB a day to disk, and if they use autosave and hibernation features, perhaps up to 9GB. The Kingston drives I'm using are rated up to 20GB per business day for three years. If you're a heavy user, then, a six year lifespan isn't too unreasonable given the hammering it's getting. Give a conventional drive six years of punishing use, and you should be looking at a new one anyway.
So I haven't stopped worrying entirely ... but given the performance improvement, the cost, and the new lease of life on my old machines, it's a trade-off I'm delighted with.
And I back up, constantly. As should you. ®