Airborne killer robot destroys Libyan anti-aircraft missile
Another nail in the coffin of the combat jet
---
What's not to like? Well, we quite like wearing wings on our chests and telling people we fly jets, actually
And yet it turns out that in fact the despised, cheapo turboprop strike aircraft - unmanned, to boot - can not only operate in contested skies but can make them less contested by taking out anti-aircraft weapons. As we here on the Reg defence desk have already noted, the initial suppression of Gadaffi's defences also involved almost no input from normal combat aircraft - it was carried out largely by cruise missiles (that is, unmanned aircraft on one-way kamikaze missions) launched from ships off the coast.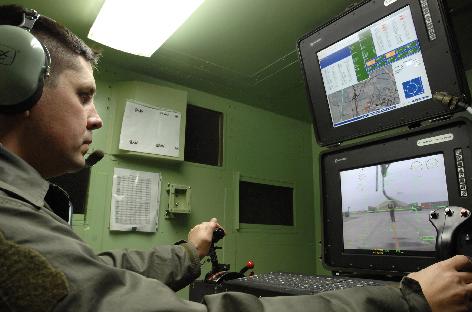 This is a lot easier and cheaper, though.
In other words, even where an enemy air force does exist and needs to be overcome, the argument for expensive full-fat combat jets has been fatally weakened. There may be niche applications for them - perhaps in air-to-air fighting against truly sophisticated top-ranking adversaries - but such adversaries are very rare, indeed may not really exist at all.
Russia's air power is but a pale shadow of what it was. China is hopelessly behind, as its recent testing of a so-called "stealth fighter" prototype indicates. In any case both nations are joined to the Western powers at the hip, economically speaking, and both are armed with unstoppable nuclear-tipped intercontinental missiles. War with them would seem not just unlikely but insanely foolish.
Other potential enemies such as Iran or North Korea are generally less well-equipped than Gadaffi: should we ever find ourselves fighting in their airspace, cruise missiles and turboprops manned or unmanned should do the job just fine.
Against this background - against the reality of a shooting war against a genuine adversary well up in the mad-dictator/military-junta league - the case for conventional combat jets is looking weak indeed. They have been rendered obsolete not so much by the use of robotics and automation to remove pilots from planes, but by these technologies' application in precision guided munitions and other weapons, and by the almost total collapse of the only military-industrial complex which could really challenge that of the Western powers.
Viewed in this light the recent UK defence review which elected to keep two large fleets of manned combat jets - the Eurofighter Typhoon and the antiquated Tornado GR4, both of them very expensive even among their expensive breed - appears to have been fouled up comprehensively indeed. It would have made more sense to scrap at least one of these fleets, and enlarge the UK's present tiny fleet of Reapers.
By all means, we might have kept some jets just in case of unforeseen contingencies: the comparatively small Harrier force, and/or perhaps some cheap and capable F-18s from America, would have been good choices both on grounds of cost and ability to fly from carriers. This last is something that neither the Eurofighter nor the Typhoon can do, meaning that they must spend much of their flight time in transit across the Med rather than in the "contested" skies above Libya - and that heroically expensive air-to-air tanking is required to get them there at all.
But plans like these would cut deeply into the revenues of the remaining UK operations of BAE Systems plc. For all that the monster arms globocorp has long since shifted its centre of gravity across the Atlantic to the States, it still wields huge and inexplicable clout along Whitehall: and in the struggle to keep up large fleets of marginally-useful, extremely expensive "combat" jets at taxpayers' expense it is misguidedly abetted by the RAF.
This profiteering and bureaucratic empire-preservation won't go away overnight because of one Predator strike, of course, or even hundreds of Predator strikes.
Even so, for anyone whose job or career prospects aren't tied to the Tornado and Eurofighter fleets and who therefore hasn't got his head stuffed wilfully into the sand on this one, the technical and economic realities of air warfare - and the inevitable way of the future - have this Easter become even plainer than they already were. ®
Similar topics
Narrower topics