Now that's what I call "convergence".
MIT has appointed a new director of its Media Lab: a blogger and networker who found computer science boring, and dropped out of higher education completely after discovering that he couldn't learn physics "intuitively". But since it's actually MIT's Media Lab we're talking about, the appointment of dot com socialite and self-confessed dilettante Joicho Ito is really the perfect, perfect choice. A happier marriage could not be imagined.
Ito has dabbled as an entrepreneur, running Japan's first ISP for a year, and in the last few years helped inflate the Web 2.0 bubble. He has been CEO of Creative Commons, set up a Guild in World of Warcraft, and served three years on the board of domain name quango ICANN. More recently he's been in Dubai, the lowest tax regime in the world.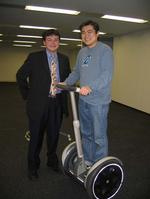 Joi on a Segway
The New York Times' John Markoff describes why Ito, whose godfather was Timothy Leary, dropped out of two colleges:
Mr Ito first attended Tufts where he briefly studied computer science but wrote that he found it drudge work. Later he attended the University of Chicago where he studied physics, but once again found it stultifying. He later wrote of his experience: "I once asked a professor to explain the solution to a problem so I could understand it more intuitively. He said, 'You can't understand it intuitively. Just learn the formula so you'll get the right answer.' That was it for me."
So why, then, is Ito the perfect choice? A clue comes from the name of Ito's investment company, Neoteny, which means juvenilisation – or the refusal to grow up.
The Media Lab was founded in the mid-'80s by Nicholas Negroponte, who then invested in WiReD to get it off the ground, to showcase the Lab's output. It earned Negroponte the title of the "PT Barnum of science", and WiReD has never quite shaken off its reputation for promoting tech gimmicks and fatuous ideas. While real research is about finding new ways of thinking and finding new ways to tackle difficult problems, the Media Lab is really an incubator for media stunts, debasing the idea of research.
Our favourite example of this is Clocky, the alarm clock that runs away from you.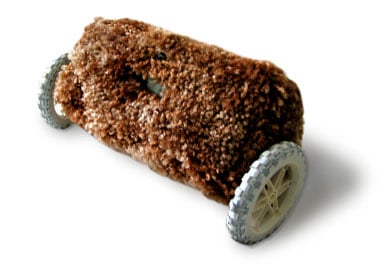 "Inspired by kittens": Clocky
The conceit behind the Lab relies on a chain of gullibility. The novelty projects are designed to catch the eye of gimmick-impressed editors, who give the novelties media coverage, which then attracts gullible investors to the Lab. Who, hopefully, start the cycle of idiocy all over again.
But Ireland was left with a bitter taste – and its taxpayers €40m poorer – after the Media Lab Circus swept in and swept out again. Twelve of the patents it filed were invalidated as worthless, and the assets were valued at just €300,000.
Ito will need to ensure that MIT maintains a supply of largely useless gimmicks that continue to inspire "a Sense of Childlike Wonder™.
"Emergence is our religion," he once told your reporter over one beer too many in San Francisco. ®
Bootnote
Ito produced a vanity photography book of portraits of friends and hangers-on, published under the Creative Commons licence for amateurs. We reviewed it here, contrasting it with the celebrated Oxford Project. It is an illuminating comparison.