This article is more than 1 year old
Memo gives full details of Nokia staff cull and closures
7,000 axed, many closures in Elopocalypse
Exclusive Nokia announced the largest cuts in the company's history today, with significant cuts in the UK and globally.
Seven thousand jobs will go across the board, with 4,000 in R&D. Office closures will follow in Denmark, the UK and Finland, and 3,000 Symbian jobs will transfer to consulting firm Accenture, the first 300 this year.
An internal memo, seen by The Register, has more details on the changes. Symbian and Meego development bear much of the brunt. Three thousand Symbian jobs will transfer to Accenture.
Symbian has been marked for extinction since February, when new CEO Stephen Elop announced that Nokia would pay to use Microsoft's software rather than develop its own, a project called Meltemi.
"The aim is that Symbian software development-related activities would [sic] continue within Accenture for as long as needed, as well as other mobility projects serving other Accenture clients. In addition, Nokia's portfolio of Symbian devices will gradually be reduced and eventually be discontinued, in line with the ramp up of the availability of Nokia devices based on the Windows Phone platform.
"Towards 2013 and beyond, activities will focus on the maintenance of the remaining products on the market."
The long-term successor to Symbian Meego also faces an early death. Nokia now tells staff that the majority of MeeGo activities are planned to be discontinued by the end of June 2012, adding: "The Windows Phone organization has started to ramp up its operations and a large part of that organization will be in place by the end of 2011, and Nokia aims to retain as many people as possible from other areas, such as the Symbian and MeeGo organizations.
"There will also be opportunities within the Meltemi organization, for personnel working within the MeeGo teams."
Although not announced publicly, 1,000 cuts will be in the reorganised 'Mobile Phones' division - which makes the bedrock S30 and S40 devices. Elop reorganised Nokia into three vertical divisions: Markets, Smart Devices and Mobile Phones. Nokia's Beijing office will expand.
The memo confirms that Nokia's Southwood office near Farnborough will close in phases by the end of 2012, and the former Symbian HQ at Boundary Row, Southwark, along with Symbian's Friar's House office. New, presumably cheaper premises will be sought in Greater London for marketing and corporate functions, the memo says.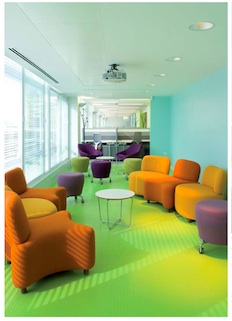 Nice: £1.2m refurb for Symbian's second London premises
Both London offices will now close.
Southwood, Friar's House and the Soho design office all benefitted from lavish refurbishments in recent years - the Southwood HQ makeover cost £8m, and the Friar's House refurb designed to buff up Symbian's image, £1.2m.
"Design will remain in central London as a key part of Nokia's presence in the UK and a key contribution to Nokia overall," according to the memo.
The cuts are a result of consolidating R&D, and Nokia told staff the choices were made on the basis of existing concentrations and the close proximity of suppliers.
In summary, the memo says:
Smart Devices Windows Phone sites: Beijing, Salo, San Diego and Tampere; Helsinki/Espoo for application development
Mobile Phones product development sites: Beijing, Oulu and Ulm; ASF sites remain unchanged
CTO sites focusing on advanced development: Sunnyvale and the Espoo/Helsinki area
Services teams and those teams moving to the business units are currently under review. This is with the exception of Cluj, which is planned to be closed.
Now here are more location details:
In Denmark, the planned headcount reduction is expected to be around 950 employees in Copenhagen. The site is planned to be ramped down in phases between Q4 2011 and Q4 2012 as product development activities, including R&D, sourcing, and product management, are discontinued. The Local Sales Unit will remain in Copenhagen.
In Finland, no sites will be closed. The planned reduction in Finland is expected to be about 1,400 employees across the Nokia sites at Helsinki/Espoo, Oulu, Salo and Tampere, with the biggest impact expected in Symbian and MeeGo, to be phased through to the end of 2012. The majority of the Symbian software activities in Finland are planned to be transferred to Accenture.
In India, the planned reduction is expected to be about 300 employees in Bangalore, across multiple units. Services R&D work is planned to continue at this site. The majority of the Symbian software activities in Bangalore are planned to be transferred to Accenture.
In North America, there will be headcount reductions at several sites totalling about 500, with the majority of that number in San Diego and White Plains.

In White Plains, site activities are planned to be transferred or ramped down in various phases with a total ramp down expected by the end of 2012. With the exception of customer account teams, all North American Sales Unit operations and activities will be moved to Sunnyvale, with Sunnyvale becoming the central site for our North American Sales and Marketing functions.

The Symbian software activities at US sites are being reviewed as a part of the planned transfer to Accenture.

In Romania, all R&D work is planned to discontinue in Cluj by the end of 2011. There are no changes planned for the factory. The planned headcount reduction is expected to be about 120 employees.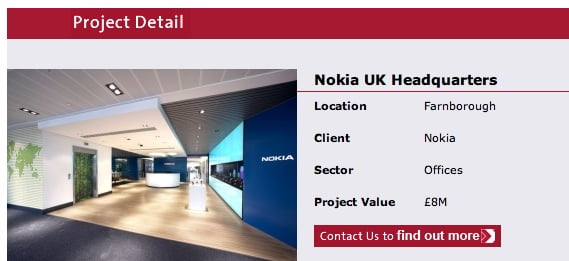 Nice: Nokia's Southwood HQ's recent £8m makeover
This office will now close
In addition:
Beijing expands and becomes the core site for Featurephone (S30 and S40) Product Development.
Oulu is planned to become a core site with a focus on Featurephone Product Development and Meltemi [Nokia's codeword for Windows Phone - ed].
Ulm is planned to expand and will continue delivery of planned rich Featurephones and then transition to a core site for Meltemi.
In Helsinki/Espoo, Mobile Phones plans to expand the ASF [application service frameworks] team to work on Meltemi software.
The memo also details other organisational and strategic changes - more to follow. ®