Review Aimed squarely at those of us who simply don't see the point of Android or iOS, Acer's Iconia Tab W500 is a Windows 7 Home Premium slate complete with decent graphics, a handy detachable keyboard, a sizeable chunk of storage and a realistic, if not cheap, price tag of £520.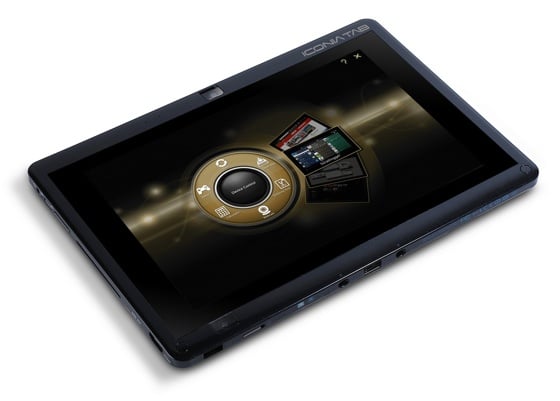 Acer's Iconia W500: use it as a tablet...
Aesthetically, the W500 is a rather amorphous lump though the slightly sparkly screen surround is a nice visual touch. There's no question marks over the built quality, though: it's as solid as a rock, and the W500's rounded corners and edges make it comfortable to hold.
The W500 doesn't have a hugely larger footprint than the iPad 2, but it is nearly twice as thick as the Apple and rather more heavy too. Carry the keyboard dock with you in addition to the tablet, you'll be tucking kit totalling 1.5kg under your arm.
Of course, the iPad 2 is the Kate Moss of the tablet world - the W500 compares more favourably with Motorola's 730g Xoom. Acer also claws back some portability points by virtue of the tiny power adaptor.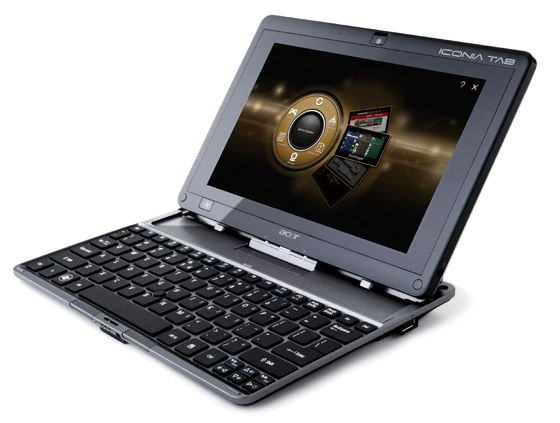 ...or as a notebook, with the optional clip-on keyboard
The W500's girth is not without its benefits: the edges house two USB ports, a volume rocker, a 3.5mm audio jack and an HDMI jack. Personally, I'd be hesitant about buying a tablet of any sort without that as the minimum number of ports. The W500 has both front- and rear-facing 1.3Mp webcams.