A Silicon Valley startup has announced that it is flight testing new NASA-funded robot moon lander technology aboard a rented airship with the aid of an iPhone app intended to exploit social networking. Unsurprisingly perhaps, the company's CTO is a search engine executive.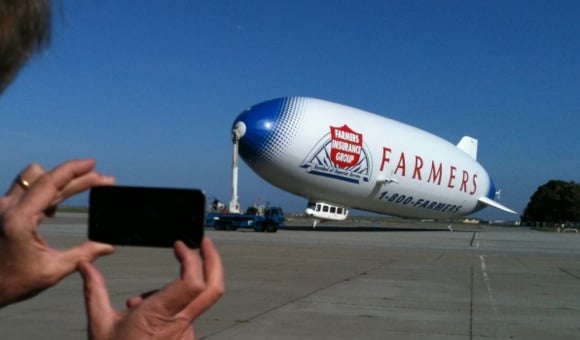 This picture was taken with an iPhone also.
The firm, within whose enticing media-bait tentacles we are willing on this occasion to be squeezed, is called Moon Express. It is helmed by a triad of Valley visionaries well known around NASA's famous Ames campus in Mountain View, and has a $10m contract from the space agency to provide "lunar data" aimed at future moon exploration.
According to the company, flight tests of a "Mini-Radar system that is essential to the company's mission to build and launch spacecraft capable of completing explorations on the Moon" were carried out earlier this month. For the occasion the mini-radar was mounted aboard the well-known Zeppelin Eureka, based at NASA Ames' Moffett Field.
Just to add the final sprinkle of Valley pixie-dust to the occasion, Moon Express decided to partner with San Francisco "geo-location and events-based photo sharing company" CrowdOptic to bring a little Jesus Phone app magic on board. The idea is that fanbois observing future Moon Express rocket liftoffs will be able to view the event through their phone-cam viewfinders, enriched by "the same up-to-the-moment status updates that we see through our communications equipment".
We learn:
The CrowdOptic application, currently available on the iPhone, will allow spectators at the live launches of Moon Express lunar missions to view the ascent of the rocket through their camera viewer along with descriptive captions describing the ascent in progress, captions such as "Moon Express Launch at altitude 500 meters". The captions will update in real time as the rocket blazes upward and photos taken of the rocket will include the captions, enhancing their value for sharing with friends and posting to online social networks.
As Moon Express lacks a rocket for the moment, the tests of the captionating picshare ware instead made use of the Eureka – not a blimp but a semi-rigid "Neue Technologie" (NT) zeppelin, successor to the great German rigids of the pre-WWII era.
"I cannot think of a more spectacular venue to debut our technology than this one, in support of a team that is quite literally shooting for the Moon," said Jon Fisher of CrowdOptic. "It is a privilege to work with the Moon Express team, to help advance this important development in commercial space."
Moon Express hopes to scoop some or all of the $30m Google Lunar X-Prize, to be awarded to the first private-sector team to place a robot rover on the Moon and accomplish certain feats.
The firm is headed up by three trustees of "Singularity University", the brainstorming tech-visionary jabbershop and seminar-fest set up at NASA Ames a couple of years ago by futurologist Ray Kurzweil. The trio are Bob Richards of the International Space University, philanthropist entrepreneur Naveen Jain, and Barney Pell – Chief Architect of Bing Local Search. ®