Review Back in October 2010, Reg Hardware looked at TVonics' first Freeview HD recorder, the curiously styled DTR-HD500. The DTR-Z500HD is a more conventional 'shoe box' shape, though much smaller than many of the others I've looked at, but it once again packs in a good spec.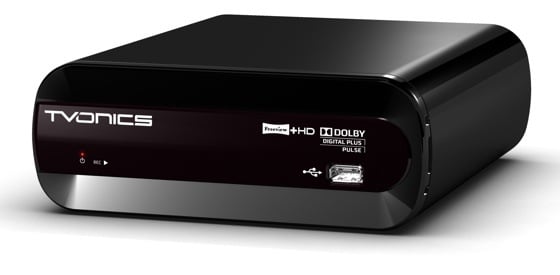 DTR-Z500HD: a more sober design than the last TVOnics DVR
There's a 500GB disk drive, Ethernet network connectivity – BBC iPlayer isn't supported yet, but is in the works, apparently – and twin tuners, so you can watch one channels while recording another, or record two at a time.
The TVonics doesn't have the network media functionality of Humax's Freeview HD DVRs, such as the HDR-Fox T2, but a look at the back panel reveals a useful extra: three HDMI ports. Two are inputs, and there's a built in HDMI switch, which will be welcome to those who only have one or two ports on their TV.
There's also a Scart output, optical S/PDIF, and a rear-facing USB port, as well as one on the front panel. Power comes from a small plug-top PSU.
If you're hoping for media playback from the USB ports, you'll be disappointed. They're strictly for photos and firmware updates, rather than video or audio playback.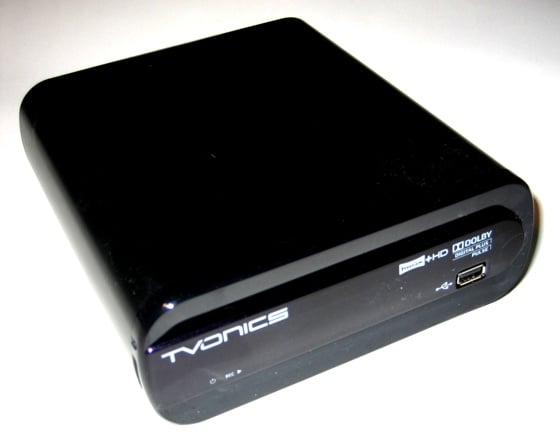 No BBC iPlayer on board... yet
The remote can be programmed to work a range of TV sets, but not other devices. At the top a row of buttons allows you to select DTT – the built in tuners – the two HDMI ports, or USB for photos. It's a fairly well built remote, with a decent feel to it, though a single key is used for 'back' and 'exit' which may confuse users of some others. There's a dedicated key for Audio Description, with an on-screen notification to let you know when it's turned on, too.