Server wannabee Cisco Systems is now a containerized data center wannabe too.
The company has rolled up and rolled out its own variant of modular data centers for its own server, storage, and networking gear (as well as that for its competitors) using standard metal shipping containers. The aptly named Containerized Data Center (CDC) is weatherized so it can be situated outside.
Cisco's goal in announcing the product is to be able to rapidly put data center capacity at a company or government agency if their brick-and-mortar data centers are out of room for new machinery; the company also believes that there is demand for containerized data centers for remote geographic areas where companies want to put servers but do not want to build actual data centers (or cannot) as well as for disaster recovery when the primary data center is knocked out.
Using shipping containers to build modular and sometimes weatherized data centers is not a new idea, and it even predates the October 2006 launch of the Blackbox data center by Sun Microsystems, which was the first widely available commercialized implementation of the idea. Others jumped into the fray, including Rackable (now Silicon Graphics) with its Concentro in March 2007 and then Integrated Concentro Environment Cube, or ICE Cube, in September 2007.
Rackable's rival in the high-density, DC-powered server racket, Verari Systems (now Cirrascale), jumped in soon thereafter with its Forrest containers. Within a year, Dell, Hewlett-Packard, and IBM rolled out their own containerized data centers, and last year SGI revamped its ICE Cube lineup with a mix of 20-footer and 40-footer units and also put out even smaller ICE Cube Air designs that are less claustrophobic than the original designs.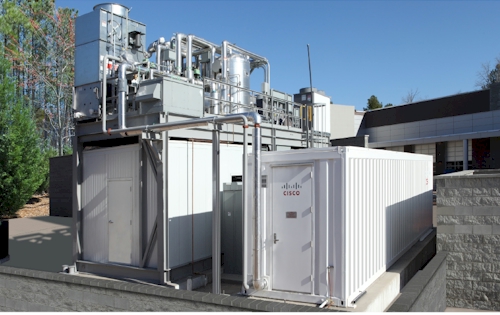 Cisco's Containerized Data Center
Cisco has some prior experience with containerized data centers. The "Pleiades" compute cloud at the NASA Ames Research Center is based on Cisco servers, which are wrapped in containerized data centers made by Cirrascale.
Cisco says that the CDC is the first in a line of modular data center products that it will be rolling out in conjunction with partners. The CDC is based on a weatherized 40-foot shipping container that has room for 16 server racks, with up to 25 kilowatts of power per rack. The CDC has water-cooling embedded in the rack, not the container, which makes it more efficient at cooling the IT gear.
Cisco says that the CDC has a power usage effectiveness (PUE) of 1.25, which compares well to the 1.7 to 2.0 of the most efficient brick-and-mortar data centers. PUE is the ratio of the power pumped into the data center divided by the power actually consumed by the IT gear as it does its work. Getting it as close to one as possible is the goal of data center designers.
Cisco reckons that using its modular data centers can cut operating expenses by 30 per cent while also reducing capital expenses. Cisco says it can drop a CDC into place with running gear in as little as 12 weeks. Pricing for CDC was not announced. ®