State Farm insurance has released an iPhone application to rate driving ability, using data from the phone's accelerometer and GPS, then spouting advice on how to be a better driver.
Driver Feedback monitors motion and location using the iPhone's sensors, then rates the driver's acceleration, braking, and cornering ability based on that data. At the end of the journey the driver is provided with an overall score, with the best driver getting 100, or zero depending on what he's trying to achieve.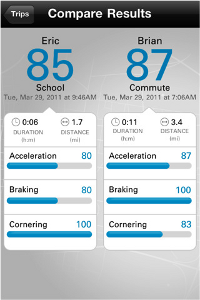 State Farm will be hoping that drivers will aim for a high score and the app offers advice to help them achieve this – including the placement of flags onto a map of the route taken to help identify the places where the driver got it wrong. The app can also be configured to automatically send the results by email or SMS (perhaps to a concerned, car-owning, parent), but State Farm is clear that it makes no attempt to archive any of the data.
There are already numerous reviews of Driver Feedback on iTunes, though one can't help wondering if they're entirely impartial:
"Wow ... State Farm should give all the guys who worked on this a big raise," says one. "Awesome," exclaims another, "now I will have definitive proof that my wife is a terrible driver. I can't wait to wait to have an argument over this".
The numbers are just for fun – as the notes explain: "The data recorded by this app will not impact your insurance rates" – but it won't be long before our insurance companies start using similar technology to decide what kind of a risk we present, now that they can't just charge us more for having balls. ®
Similar topics