Vorsprung durch Luftschiffstechnik
Over time, however, the US Navy blimp fleet dwindled and disappeared (though the service has a single contract blimp today for experimental purposes). Goodyear moved almost completely out of the airship business, though it continued to maintain a small fleet of blimps for advertising and PR purposes and perhaps as a nod to company history.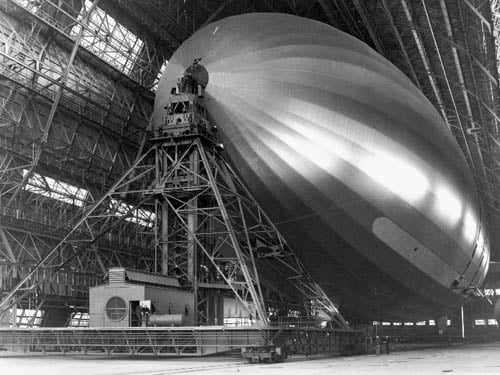 Captain Scarlet's Cloudbase was real after all.
Meanwhile in Friedrichshafen on the shores of Lake Constance, money left after the winding-up of the old Zeppelin Company had been placed in the trust of the town's mayor with the stipulation that it could be used only for airships. By the late 1980s it had accumulated to the point that the setup of a new company seemed viable, and so was born the modern-day Zeppelin Luftschifftechnik GmbH & Co (ZLT).
ZLT duly developed its "Neue Technologie" (NT) design, an attempt to move away from primitive blimps and back towards the company's predecessor glory days. NT ships' envelopes do maintain shape by internal pressure, but they possess a partial internal structure of glass-reinforced plastic and aramid, allowing propulsion to be mounted away from the gondola and making the ship stronger and stiffer than a squashy blimp. This makes them technically speaking semi-rigids.
As of 1990, ZLT hoped that it might sell as many as 80 NT Zeppelins, but that dream proved hard to realise. Today just three are flying - one in California, one in Japan and one based at Friedrichshafen itself. Plans for a sightseeing service over London ultimately came to nothing.
Now, however, with Goodyear's annoucement that it will replace its three US-based blimps with Zeppelin NTs, that worldwide fleet is set to double and the design can be refined from the present Luftschiff Zeppelin (LZ) N07-100 pattern to LZ N07-101. This won't involve any radical new airship tech, however – the refinements are apparently to centre on cockpit avionics and advertising light-sign kit. In line with its current practice, Goodyear has no plans to offer regular passenger flights.
The new ships will undergo final assembly at Goodyear's Wingfoot Lake hangar near Akron, Ohio. (The nearby, colossal Goodyear-Zeppelin "Airdock" in which the Akron and Macon were built is now owned by US defence megacorp Lockheed Martin, which has military airship and aerostat projects of its own.) However production, design and some of the assembly of the new zeppelins will take place at ZLT's Friedrichshafen facilities and ZLT will continue to support the ships once operational.
The first of the new Goodyear Zeppelins will fly in 2014 on current plans.
Andreas Brand, Lord Mayor of Friedrichshafen and chairman of the board of the Zeppelin Foundation, is thoroughly chuffed by revival of the pre-war cooperative axis.
"Almost 90 years ago Goodyear and Zeppelin bundled their competence and built the most innovative airships of their time," he said, announcing the deal. "This cooperation will again set new standards."
There's a handy comparison factsheet PDF from ZLT here for those interested. ®